Archived News Item
Sr Mary Sellen ends 40 years of dedication
June 1, 2011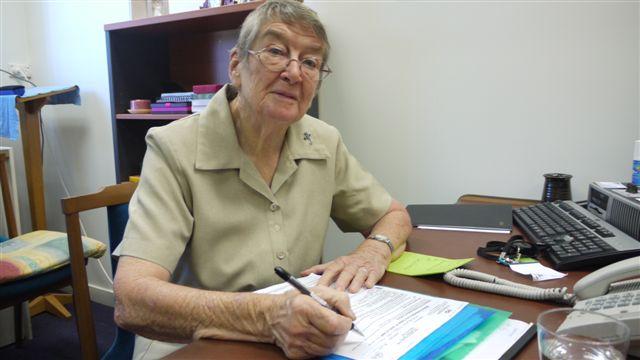 Sister of Mercy Mary Sellen has retired from Mercy Disability Services and the Holy Cross Laundry, in Brisbane, after 40 years of dedicated service. She was farewelled by service users, staff, volunteers, friends, family and other Sisters of Mercy during a celebration on April 13 at Wooloowin.
During this event, Sr Mary's time and contributions to Mercy Disability Services was recognised and celebrated. Sr Mary has played many roles over the 40 years including pastoral support, advocate, business services director, confidant, listener and others. She was a driving force and passionate about supporting people to be the best they can be and to achieve their goals in life.
Mercy Disability Services, a ministry of the Sisters of Mercy Brisbane, is a not-for-profit organisation committed to providing sustainable support options for people with intellectual disability and their families and carers. Mercy Disability Services has been based in Wooloowin for more than 120 years providing services to people in need. It has grown to provide services of residential support, community living program, day services, in-home and emergency and crisis respite as well as the Cookery Nook, a four-star accreditated catering and conference room service.
Beginning with a Mass at the Holy Cross Church, Sr Mary, as she is fondly called, was blessed by Fr John Fitz-Herbert as part of the community's farewell. The Holy Cross Church was part of Sr Mary's advocacy during her earlier years with Mercy Disability Services because "at that time, we are aware of the harsh reality that unwed mothers were to be kept hidden with the society and we believe that the residents needed a place where they could pray together", she said.
About 200 people attended the Mass which was followed by a formal lunch in the nearby Heritage Hall, catered for by the Cookery Nook. Whilst sharing this meal, several people spoke about Sr Mary's life and her amazing qualities that are loved and adored by all that know her. Some of the people who gave heartwarming speeches were Sr Lourdes Moylan and Sr Mary Lawson, as well as several staff and service users of Mercy Disability Services. These speeches were followed by a makaton performance, the reading and presentation of an Irish retirement blessing to Sr Mary, presentation and cutting of the cake, the presentation of the gifts and a speech by Sr Mary. The celebrations continued into the Mary Sellen Centre (the building named after the guest of honour), where the Mercy choir performed a song written about the Mary Sellen Centre by a former employee. A slide show showcasing many beautiful photos of Sr Mary at different times in her life was presented and people from the day service gave a performance.
The Catholic Leader
Messages: Mary Lawson RSM