Archived News Item
Angela Reed appointed MIA Global Action Coordinator
January 25, 2017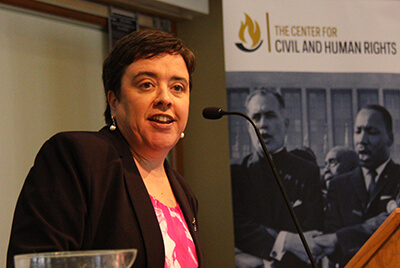 25 January 2017
The Institute's Sr Angela Reed rsm has been appointed MIA Global Action Coordinator at the UN.
Angela is a graduate of RMIT University's School of Global, Urban and Social Studies, Melbourne, Australia where she completed her PhD on Human Trafficking. Over the years she has integrated her professional background in education, social work and theology to adopt an interdisciplinary approach to research, service provision and public advocacy. Her primary research interest is on gendered violence and in particular human trafficking.
Prior to her research, Angela was coordinating a women's safe house in Melbourne Australia where she encountered many women and children who were experiencing violence and abuse. In 2015 Angela took up a role as Resident at the UN MIA Global Action office in New York and for the last 5 months, has served as the MIA Interim Coordinator Global Action there. Following a recruitment process, Angela will take up her full-time position in March. Congratulations Angela!
Towards the end of last year, Angela delivered a lecture and was featured in a Question and Answer session at the 'Reframing Human Trafficking: A Human Rights, Life Course Approach' at the University of Notra Dame, Indiana USA.
(Source: Mercy International Association)