Archived News Item
Spotlight on 150 Years of Living Mercy
February 24, 2011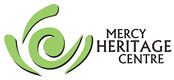 The 150th anniversary of the Sisters of Mercy Brisbane Congregation is being celebrated through a number of exciting new exhibitions in the Mercy Heritage Centre, All Hallows' Convent.
Exploring the life and work of the Sisters of Mercy, the Centre reveals the origins of the Mercy Order and its key ministries, as well as aspects of religious life and Catholicism. In addition visitors can discover the different layers of the building's history, the magnificent Chapel and an extensive collection of religious relics.
Peter Connell, the Director of the Mercy Heritage Centre said the exhibitions, professionally designed by exhibition company Thylacine, offer a unique opportunity to uncover stories of the lives lived in this incredible place.
"The exhibitions examine the full breadth and depth of the rich and diverse history of the Sisters of Mercy Brisbane, interpreting our six identified themes: Beginnings, Health, Education, Welfare, Religious Life, and Building History," Mr Connell said.
"Rather than generalise, we've used the stories of individuals to explore a number of these complex themes. From life as a Novice and the spectacle of a pre-1967 Reception Ceremony, to heart-wrenching tales of separation from family and friends, we have told a number of Mercy stories long silent."
Mr Connell also acknowledged the Lord Mayor's Helen Taylor Award for Local History from Brisbane City Council for providing funding of $10,000 towards an exhibition presenting the history of the vocational training of the Sisters of Mercy.
The Reviewers for Museum and Gallery Services Queensland (M&GSQ) Standards Program praised the Centre:
"for its exceptionally high standard of overall achievement. Their exhibitions are of the highest quality. The themes are well chosen, clearly articulated and the design and layout are sensitive and appealing. The objects are displayed most professionally. The layering of building interpretation, personal accounts, and interpretation of objects, artefacts and personalities is interwoven throughout each of the spaces and this assists the visitor to build up a comprehensive understanding of the life and the work of the Sisters."
Situated within All Hallows' Convent in Ann Street, Brisbane, the Mercy Heritage Centre is open to the public on Mondays AND Fridays from 9am to 4pm. Entry is free, but donations are gratefully accepted.
For further information contact:
Peter Connell
Director
Mercy Heritage Centre
All Hallows' Convent
547 Ann Street
Brisbane QLD 4000
(07) 3831 2252
info@mercyheritage.com
www.mercyheritage.com