Archived News Item
SPIRITUALITY AND AGEING
February 9, 2016
In 2014 Pope Francis declared a year of Consecrated Life to commence on 30 November 2014 and to conclude on 2 February 2016. This special time in the life of consecrated persons was to coincide with the fiftieth anniversary of the Dogmatic Constitution on the Church Lumen Gentium, and the Decree Perfectae Caritatis that speaks to us of the renewal of religious life. Fifty years ago we were young, healthy, energetic, enthusiastic, dedicated women who took the reins of this document and set out to follow its guidelines. Never did we envisage the tremendous changes that the Church through the Holy Spirit was asking of us. Some things did not require much imagination. A good dressmaker fixed our external appearance. Some of us really welcomed the renunciation of the horarium that allowed us a couple of extra hours in bed on those cold winter days. But today we continue to struggle with the deeper elements of Perfectae Caritatis. Pope Francis in his own gentle and incisive way has reminded us of the ongoing challenge we still face.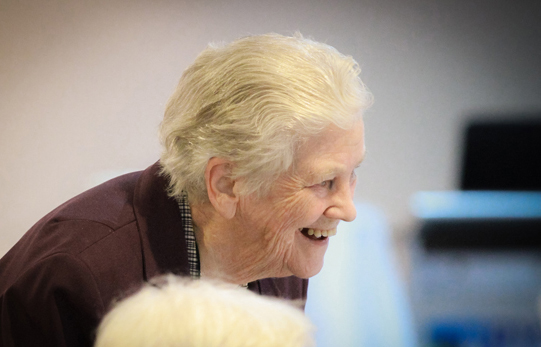 His invitation is for us to reflect on the history of our Institute and see it from the perspective of where we are today so that we may face the future with hope. His expectations are that, in so doing, we will be people of joy, prophetic witnesses, living harmoniously in community, women who will go forth to the edges of society, and as religious will identify what God and people are asking of us today. Further he asks all members of the Church "to be increasingly aware of the 'gift' that is the presence of many consecrated men and women". And finally he asks the bishops "to accept institutes of consecrated life, readily and joyfully … to support and encourage" those who find themselves in difficult circumstances, and, above all else, to "instruct the People of God in the value of consecrated life" (Pope Francis, 2014, p.28).
Pope Francis has addressed this Apostolic Letter to all those of consecrated life and this includes elderly religious. So, how can we respond to the expectations of Pope Francis during and beyond this year of consecrated life? I present to you a paper in which I will look at different aspects of the ageing process with reference to comments and questions raised about ageing in one of our community meetings in August 2015. Ageing, community life, ageism, loss and suffering, residential aged care, prophetic witness, reminiscence and spirituality throughout life will be briefly explored. Hopefully, this will help us to see the relevance of Pope Francis' message for us as Sisters of Mercy, 'heirs' of Venerable Catherine McAuley.
Download full article HERE.
Photo: One of our elderly religious, Sr. Mairead Murray rsm photographed at a Mission Gathering in Cairns.
Messages to: Margaret Randall rsm