Archived News Item
Speaking from… Pakistan
November 27, 2011
Educating the educators
For the past 11 years Sr Margaret Madden has been the Director of the Notre Dame Institute of Education (NDIE), in Karachi. She has been involved with the Institute since it first began in 1991 and lived in Pakistan and been instrumental in its development for the past 16 years.
Despite claims of economic growth, more and more people in Pakistan continue to live in dire poverty. Many parents do not see the value of education. Others might wish for education for the children but simply cannot afford it. Their children need to work for the family to survive. Mercy works has been supporting the Institute and its education project in Baldia town. We spoke to Margaret about her time at NDIE and the impact that this small but important college has had.
What was the reaction of the staff to your leaving?
'Initially the staff were devastated, but they realised that I would not have left if I did not believe that they were fully capable of running and developing the Institute themselves. I know they will continue providing high quality education. I remember that Sr Gabrielle Jennings, the first director of the Institute, always said "we went to NDIE to do ourselves out of a job." It is very rewarding to know that we have reached that point after 20 years. I will be returning frequently over the next three years in a mentoring role and doing some teaching and research work.'
How has the Institute grown?
'From a small institution that opened with just 17 students in 1991, we have now graduated 1,100 students with Bachelor Degrees in teaching and 100 at the Master's level. Some of our Masters graduates have gone on to complete doctorates in order to provide good quality leadership for education in Pakistan and 75% of NDIE's present staff are its graduates.'
Tell us a little about the students and graduates.
'Many of our graduates are the first people in their families to be educated. Three quarters of them are on scholarships as their families could otherwise not afford quality education. They work very hard and I'm always impressed at how keen they are for education and the value they place on it and in wanting to play a role in enabling good quality schooling to develop in Pakistan.'
What impact has the Institute had?
'Graduates from NDIE have gone out to teach in every province in the country, some in very isolated, impoverished schools while others have started their own schools in village areas. We also have graduates working in education policy making positions both in government and private sectors, in research and in text book writing.'
How important is the Baldia Town school project in Karachi?
'It touches into the very heart of working with the very, very poor to improve their lot in life. These particular Baldia children are not accepted into government schools. With the assistance of Mercy works, NDIE provides two schools for children of various castes, creeds and cultures. the project has helped to employ teachers and build up teacher resources,provide uniforms for the children as well as text books and library resources for the schools.'
How can people support the Institute?
'NDIE always needs assistance with educational resources, equipment, computer resources and keeping the library up to date. It's also essential to support some of staff in completing their doctoral studies as the professional development of the staff is vital for the continued strength of the Institute. Our hope for Baldia is that we can build a proper school for the children.'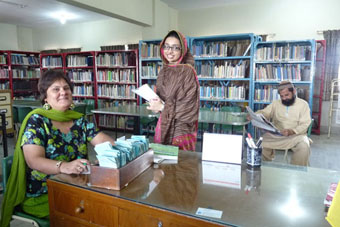 Despite its small size, NDIE is known as one of the two best teacher education colleges in Pakistan.