Archived News Item
Speaking from…Fohorem
June 22, 2012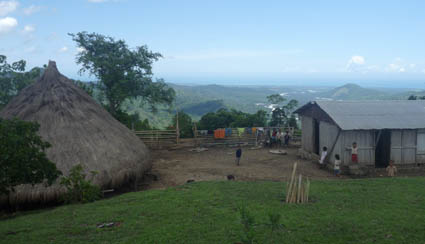 Enjoying the evening light
When Sr Ann Thomson moved to Fohorem in Timor-Leste, one of the many new things to which she had to adjust was the fact that the power comes on only between 7pm and midnight.
Ann came to Timor-Leste after working in Pakistan for three years.
Here she reports on her first impressions of Fohorem.
The beautiful scenery of Fohorem doesn't
hide the challenging conditions for the villagers.
'After leaving Dili at 7am I arrived in Fohorem twelve hours later as the light was fading across the valleys and mountain tops. It was a wonderful relief to step down from the car with the sense that my bones and muscles had found their proper places again after the bone-shaking drive.
'It was just after seven o'clock because the electricity was on in my new home. I was to learn that the village generator is switched on for only five hours each day. Because this arrangement is constant it is one of the easier adjustments to make. Thanks to the efforts of Sister Helen Nolen and the support of Rotary in Australia, Fohorem has piped water now and the smallest villages in the area have piped water-points.
However, in Fohorem itself, the supply of water is intermittent as there is no pattern to when it will be turned off or on, which makes it more difficult to work around. '
Early childhood learning
'My first visit the next day was to the Early Childhood Learning Centre in Fohorem. I was agreeably surprised to see such a well-established and well-equipped centre in a 'remote' area. It was clear from their faces that the children were enjoying their activities and that the teachers were enjoying working with them. I found myself looking forward to seeing the centre in Datorua, twenty minutes or so further up the mountain. '
Developing computer skills
'In addition to the Early Childhood Learning Centres I am also overseeing two other projects in Fohorem. Two of the local young women offer a Computer Skills Program to secondary school students and to interested adults. After the Touch Typing Course they can choose to become proficient in programs such as Word and Excel. The students are rostered for half an hour each weekday on one of the five computers. Graduates of this course have been successful in gaining jobs in Suai, the administrative town of the district. The two young women also provide a photocopying service for the local community. '
'Mercy Works also oversees a Women's Centre here. There is a young woman who makes clothes to order and does alterations – another significant service for the local community. A group of young women make greeting cards showcasing tais, the traditional Timor Leste weaving. Recently they received from Australia an order for 100 such cards which made them very happy.'
'One lesson I keep trying to learn from communities with limited resources is to value what is available and to think outside the square as to how these things might be utilised rather than focus on what is not available.'