Archived News Item
Solidarity with most affected by climate change
June 21, 2007
Greenhouse gases that we generate are causing global warming and climate change. This is having very severe effects on vulnerable people in many parts of the world, for example the Pacific region, Bangladesh, China and North Africa. We can and must stand in solidarity with these people and these regions as they face an uncertain future. Read on for a snapshot of what this is like for the people of Kiribati, and for recommendations for public action in this Federal election year.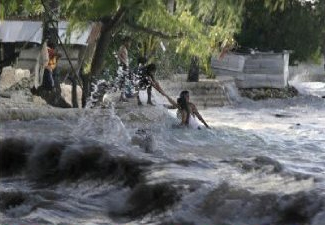 Image: Rising Tide Australia, Grassroots Climate Action http://www.risingtide.org.au/
Solidarity with those most affected by climate change
While we will all be affected by climate change in some way in the future, some likely consequences identified in the recent report from the Intergovernmental Panel for Climate Change (IPCC4) will have devastating impacts on the Pacific region, Bangladesh, China and India. These include increase in the intensity and frequency of tropical cyclone activity and increased incidence of extreme high tides and King tides (excluding tsunamis). The same report confirms that human activity is the major factor contributing to the climate change impacting adversely on ecosystems, socio-economic systems and human welfare.
People near us, people whom some of us know personally, have a very uncertain future. At the Pacific Churches' Consultation in 2004 (convened by the World Council of Churches), the people of Kiribati named their present experience:
§ Sea level is rising;
§ People's homes are vulnerable to the increasingly high tides and storm surges;
§ Shores are eroding;
§ Coral reefs are becoming bleached;
§ Water supplies and soil fertility are being threatened by the intrusion of salt water;
§ Weather patterns are less predictable, posing risks to fisher folk and farmers.
We need to care for the whole earth community because it is valuable in its own right, and is created by God. We need to respond to the call of Pope Benedict XVI to care for earth because the most vulnerable are affected.
Friends of the Earth Australia (FoEA) is one group actively campaigning on environmental justice, with a focus on how people in the Pacific Islands are being affected. They believe that we need to recognise those displaced by climate change as a as a separate category of refugee. They invite us to join them in lobbying the Australian and other governments to appropriate recognition of climate refugees through new or existing conventions. To access their Citizen's Guide to Climate Refugees (one of whose writers was Wendy Flannery RSM), go to http://www.foe.org.au/resources/publications/climate-justice/CitizensGuide.pdf
FoEA is asking organisations to formally endorse this Guide as a way of strengthening its advocacy efforts in the political arena. The Brisbane Sisters of Mercy have done this. Please negotiate with your Mercy Congregation and Associates about doing the same.
If you decide to do this, please advise the National Co-ordinator, Emma Brindal: emma.brindal@foe.org.au
Follow this link eco.justice@mercy.org.au to let the Institute Eco-Justice group know what is happening in your area, and whether you want further resourcing on this topic in the lead up to the election.
From: Specific Issues Committee, Eco-Justice (Sisters Margaret Abbott, Mary Dennett, Patricia Powell and Mary Tinney). The Committee warmly invites your response to the article or the issue.
Email: eco.justice@mercy.org.au
Contact: Carmel Heagerty RSM, Institute Justice Co-ordinator