Archived News Item
Six generations of Mercy education
July 2, 2009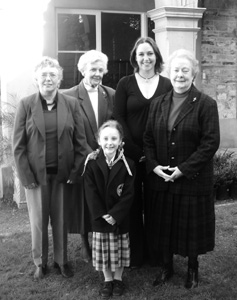 When Evelyn Lillian Clare Jackson walked through the doors of St Aloysius College, Adelaide on May 1, 2007, she not only began her school life, but continued a family tradition of Mercy education. This link began in 1889, nine years after the first Sisters of Mercy arrived in Adelaide from Beunos Aires, and has continued through six generations. From this family, six women became Sisters of Mercy: in the nineteenth century, Sarah, Ann, Tomasina and Elizabeth Briggs as Sisters Mary Gabriel, Augustine, de Pazzi and Josephine; and in the twentieth century, Ruth and Barbara Mullins as Sisters Ruth and Marita.
When Anne and John Briggs (Evelyn's great-great-great-great grandparents) and their six girls, moved from Mintaro to Adelaide in the 1880s, they quickly established a connection with the first sisters. This bond was strengthened in March 1889 when Sarah and Ann joined the sisters together, given the names Sister Mary Gabriel and Sister Mary Augustine.
In 1890 Tomasina entered also, and became Sister Mary de Pazzi, who in 1898 was one of the founding members of the Coolgardie (WA) Sisters of Mercy. Elizabeth, joined her sister in the goldfields later in the same year, entered Coolgardie Convent and was given the name Sister Mary Josephine.
Anne and John's eldest daughter, Mary Anne (great-great-great-grandmother) married John Joseph Nash from Victoria. They had two girls Clare (great-great grandmother) and Cecilia. Both girls attended SAC for all of their schooling, and both trained as teachers.
The tradition continued when Clare married Hugh Mullins and their daughters, Marie (great grandmother) Ruth, Patricia, and Barbara attended SAC between 1941 and 1952, some as day scholars and others as boarders. Ruth and Barbara followed their great aunts entering the convent becoming Sister Mary Ita (now Sister Ruth Mullins) and Sister Marita Mullins. Both have taught in various Mercy schools across the state, before moving into other Mercy ministries. Marie (Lintern) and Patricia (Williams) moved to Victor Harbour. Their children attended "Coolock" Convent of Mercy in Victor Harbour from 1957 until the school closed in 1967 when six children of the two families were enrolled.
Monica (grandmother), and her sisters Marilyn and Veronica Lintern, were all boarders at Mercedes College, since the boarding school had moved from SAC to the Springfield site in 1956. Monica continued some science classes at SAC while Veronica was one of the last boarders at Mercedes.
Bernadette Davies (Evelyn's mother) began at SAC in year 8. When the family moved to Alice Springs she wanted to remain at SAC, and so boarded at Cabra in order to complete her secondary education at SAC. The year after she left, her cousin Narelle Lintern enrolled in Year 8. Bernadette and Narelle broke the long line of teachers in the family, Bernadette completing a Nursing Degree at the University of South Australia, while Narelle is currently completing a Postgraduate Medical Degree at Brisbane University.
And now Evelyn Lillian Clare Jackson takes her place as next generation to be touched by the Mercy spirit.
From: Sister Marita Mullins RSM
*This article first appeared in the St Aloysius College newsletter.