Archived News Item
Sisters urge others to see film: HOPE
July 9, 2008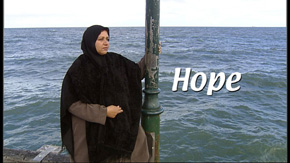 Hope is a story of inspiration, courage, family, pain and above all… hope. There are many twists and turns as the film unfolds through the eyes of Amal, one of 400 asylum seekers who were pitched into the sea when their 'people-smuggling' boat from Indonesia sank on its way to Australia in 2001. 353 people drowned. Who are these people and what are their stories? As you read the following responses from Mercy Sisters who have seen the film, be aware of your own responses. Why not consider seeing the film or find out more about the life of refugees?
"Did you ever have a deep hope in your life – a hope that an event would turn out in the best possible way? I am sure we all know that experience and we also know the reverse when nothing turned out as we hoped it might have. I wonder if I would be as gracious and dignified as Amal Basry. Recently I saw the documentary Hope. Amal Basry invites us into her life, her home and most of all her heart as she shares her journey toward a new life, a new hope, and ends with a turn of events you would not expect. I felt captured by her extraordinary spirit and always her deep sense of peace and hope for something better. Be prepared to meet a real person who will touch your heart with hope." Julie Anne Ryan RSM
"I was privileged to be able to attend a screening of this film, Hope, and I was so moved by it words failed me, and I could only retreat into myself and reflect on the impact of the tragedy of this happening, its ongoing significance in the lives of so many families, not least those who had survived to face even more trauma and hardship. I think it is a hard movie to watch, but it demands to be seen and its message heard." Celestine Pooley RSM
"I especially wanted to see the film Hope at the end of Refugee Week as I had the privilege of having met Amal (the Iraqi woman whose powerful story is told first hand) at a gathering at some Iraqi friends' home. Amal (whose name means 'hope' in Arabic) tells this shocking story of the sinking of the SIEV X ship north of Australia in 2001, when 353 people drowned. She became a strong advocate for the 7 survivors who made it to Australia. She tells this story with passion and pain, but no bitterness. I felt very angry at the end of the film, wondering if the Australian government will ever look into the truth of such enormous human suffering and trauma." Sally Bradley RSM
"As soon as I received notification of the film's launch I planned to see Hope. I had seen and heard Amal at refugee gatherings but nothing prepared me for what was revealed in Hope. It was an encounter with Amal, a woman whose courage and selflessness is extraordinary. Amal's words, expressions and silence travelled deep within me. She has touched many people in her life and they in turn have touched others. I am left with many questions and of course the images of people drowning." Carmel Heagerty RSM
"I saw the documentary Hope on its opening night at the theatre. I had read about it on the internet, and, discovered, to my shame, that I knew nothing about the sinking of the boat, the SIEV X, between Indonesia and Australia, in October 2001, in which 353 people drowned, and from which only seven survivors actually made it to Australia. I was further attracted to see the movie by the lovely face of the survivor, Amal Basry, whose name itself means 'hope', and who became a sign of hope for the group of survivors now living in Australia. Her story is a very moving one, filled with deep sadness, yet wonderful resilience and personal strength, that is a tribute to both Amal and the memory of the people who were lost at sea." Helen Horne RSM
Screening Information – Visit Hope website
Now Showing at:
Dendy George St, Dendy Newtown NSW
Palace Cinema Adelaide SA
Luna Leederville WA
Opens July 26, 2008 at Dendy Canberra Centre ACT.
There will be additional regional screenings announced soon, please check your local cinema listings for details! If you are part of a refugee support group and want to host a fundraiser screening of Hope in your area, please get in touch with distributor:
Gil Scrine Films: 44 Northcote St, East Brisbane Qld 4169, Email: gil@gilscrinefilms.com.au
From: Specific Issues Committee, Asylum Seekers and Refugees (Sisters Sally Bradley, Claudette Cusack, Geraldine Mugavin and Lorraine Phelan). The Committee warmly invites your response to the article or the issue.
Email: asylum.refugees@mercy.org.au
Contact: Carmel Heagerty RSM, Institute Justice Co-ordinator
Email: Institute.Justice@mercy.org.au