Archived News Item
Sisters Rally to Support Drought Stricken Communities
August 29, 2018
The terrible plight of communities in drought stricken areas across Australia continues. Many sisters have joined in supporting impacted people through organising cash donations, gift vouchers, food, clothing and other assistance.
In times of distress such as these, we are able to glimpse humanity's collective spirit as much of Australia bands together to provide relief for farmers, their families, and the communities in impacted rural areas.
Our sisters are also providing support  – organising cash donation, gift vouchers, food, clothing and more. Some of our sisters live within the affected communities, while others are connected through family and friends.
Joan Doyle RSM, Director of Initial Formation, is connected to the Forbes area in New South Wales through her brother and family, who are the sixth generation on the family farm.
"The dams are drying up in the Forbes area and this is causing a big issue. Also it is lambing time and recently my nephew went out into the paddock and found 100 dead lambs who could not survive because their mothers had no milk for them".
Across impacted areas, crops are dying off and large patches of land are turning brown, and still there is no rain.
"Some farmers have sown dry in the hope that the rain will come," Sr Joan said. "If there is no rain their crops will die and they will receive no return for their labour and the cost of fuel and grain."
"They may not have a crop for the first time ever and this will mean there will be no grain next year to feed the stock or plant crops."
Not only are the farmers being affected by the drought, but the commerce within the towns are also seeing their trade suffering. In Forbes business is reportedly down by 40%.
"There are next to no people in the main streets and this is because the community has no money for the non-essentials."
The devastating impact of the drought extends beyond the physical, as people worry and feel distressed about what the future will look like and having to see their animals die.
"The situation is daunting," said Sr Joan. "One minute there are clouds in the sky and all there is is a light sprinkle before they dissipate".
"There is a saying in the area, "we are one day closer to rain" and I think this really shows the hope the community holds through this troubled time."
Having seen the effects of the drought on her family, Sr Joan was determined to help in any way she could. After receiving a call from the North Sydney congregation, asking for suggestions on where to send funds, Sr Joan decided to launch an appeal. She reached out to Institute Sisters in Sydney and Stanmore Institute staff for donations and raised $11,000 in eleven days!
After having consulted her family as well as Parkes-based Sister, Nerida Tinkler RSM, Sr Joan made the decision to support the Burrumbuttock Hay Runners ($7,000) and the St Vincent de Paul in Parkes for use in the Wilcannia-Forbes Diocese ($4,000).
The Wilcannia-Forbes Diocese makes up 52% of NSW's Western half – a series of small communities who are largely drought stricken.
Nerida Tinkler RSM contacted the social welfare arm of the St Vincent de Paul in Parkes to find out where donations can be sent and was pleased to hear that their Head of Social Welfare, Michael Lynch, had taken a hands on approach to the support of farmers across the Diocese.
"One of the hardest things is to get many of these farmers to admit they are in need of help," said Sr Nerida. "Michael is personally driving to these farms and chatting to the farmers to learn about their personal situations; he has visited 250 farms to date".
Beyond the St Vincent de Paul, the local Bishop, Bishop Columba Macbeth-Green, has made a public offer throughout the Wilcannia-Forbes Diocese. "Bishop Columba has said that anyone with children at Catholic schools in the area that cannot pay fees is to approach the Principal and they will be looked after."
"At more recent weekend masses Bishop Columba, recognizing that donations of basic food items and cash is happening and will continue, also made a personal appeal to 'feed the soul', calling for people to donate items for what he is calling 'Pamper Hampers'… These can be anything that would lift the spirits of the farmers, things such as a wine to facials that have had to cut out since the beginning of the drought. He would take these around when he is visiting the farmers in the Diocese."
Chistine Belling RSM who lives in the Armidale Diocese, in particular Gunnedah, says "'droughts and flooding rains ……. this wide brown land' is often our reality. This drought  has become very severe for many farmers and graziers as well as the business people in our towns, which are the service centres for the surrounding rural areas."
Sisters Gabrielle Foley RSM and Christine Belling RSM applied for some funding from the Institute's Mercy Action Support Fund (MASF) in May and were successful in receiving $5,000 each. Sr Gabrielle has distributed her grant locally and shared with two Sisters of St. Joseph from the Pastoral Support Group, i.e. the religious women of the Diocese, who minister in the western part of Diocese.
Sr Christine chose to direct the $5,000 MASF Grant to the owner of a Produce Company in Gunnedah. The was is to be distributed by the owner to some of his customers whom he knew were in need.
As a result of an invitation to the staff at St. Mary's Secondary College in Gunnedah, the schools cooking classes have cooked and packaged home made biscuits. These have been given to the owner of the Produce Company as a coffee/tea space that has been created for people to come in and share a "cuppa". This initiative is proving very successful and appreciated by customers. Sr Christine delivered more biscuits and added small packets of sweets. In buying these sweets at the local supermarket she explained to the couple waiting that the sweets were being made available at one of the stores and the gentleman opened his wallet and gave her $50.
"'Out of the blue' our Parish Priest, Fr. John McHugh received a call from Fr, Peter Slack, the Parish Priest from Casino, asking if he would accept money from his Parish for the people experiencing this crippling drought," said Sr Christine. Fr John has accepted wholeheartedly and has asked Srs Gabrielle and Christine to distribute it to the people. The generous donations received from the Casino Parish and St. Mary's Primary School has now been received and they are about begin distribution.
"The generosity of some sisters from New South Wales and Interstate has also been accepted and we are privileged to direct this to some of our needy families in the name of the Sisters of Mercy," Christine continued. "Catherine's maxim comes to mind – The poor need help today not next week."
In our country's North the drought continues with 57 percent of Queensland reported as drought stricken land.
North Community Leader Helen White RSM and Desma Clarke RSM recently took a road trip to visit fellow sisters Colleen Livermore RSM in Blackwater, Rita Connor RSM in Barcaldine and Mary Baptist Matherson RSM in Biloela.
"Although we enjoyed our days out West it was heartbreaking to see the effects of the drought and to hear stories of many families walking away from their homes," said Sr Helen. "Des and I waited while cattle in the 'long paddock' searched for food."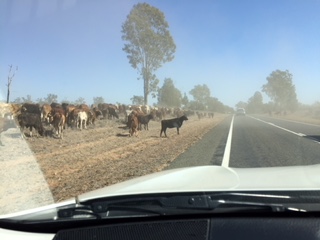 We are interested in hearing about initiatives, causes and stories of the drought from across Australia. If you have something you would like to share please email: communication@ismapng.org.au.
Messages to: Joan Doyle RSM, Nerida Tinkler RSM, Christine Belligen RSM, Gabrielle Foley RSM and Helen White RSM.