Archived News Item
Sisters of Mercy of Papua New Guinea gather
August 10, 2011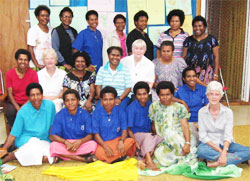 From 18th to 21st July the Sisters of Mercy of Papua New Guinea gathered together in Goroka, staying at the Kefamo Pastoral Centre. While the showers may have been cold, the gathering had its own warmth as we shared stories along with much laughter and time to pray together.
With the competent facilitation of Sr Margaret Endicott, we considered the topic: "managing transition and change", by way of preparation for joining the Northern Community of Sisters of Mercy of Australia and PNG.
To begin the Gathering the members of the Coolock House Community, Goroka, led the group into the Conference Room with a traditional welcome dance. After an opening prayer it was down to business with the guidance of Margaret Endicott.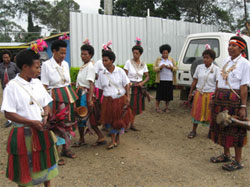 Over three days we pondered who we have become as Sisters of Mercy in PNG from the perspectives of the past, the present and the future. In order to look at mercy life today in PNG we situated ourselves within the context of the world, the country of PNG, the Sisters of Mercy internationally and nationally since 1956 and see the values that were held in common. 1956-1976 was a time of "exploration", 1977-1996 a time of "experimentation", 1997- 2005 a time for "reforming" and 2006-2010 a time of "empowering". To draw together the threads of each days' work Margaret used a simple process whereby she divided the group into five, each with a specific task. 1) name a title for the day, 2) creating a symbol that captured the feelings of the day, 3) find a scripture text that supports the day, 4) write some words that capture the core message of the day and 5) find or write a song. Using the same process each day we created a hope-filled picture as we move into the future of the new institute and excited to belong to the Northern Community.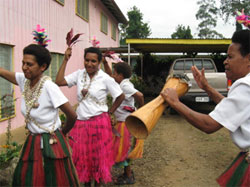 Our mercy ancestors have gifted us by their courage and strength which has empowered us both as individuals and as a group and we have renewed energy that is leading us to find new ways of caring for people and the earth as Sisters of Mercy today. On our journey we are empowered by the Gospel Values and the Spirit of Catherine McAuley and we are nourished and strengthened by Christian and Melanesian Values and rituals. With courage we are called to respond to the Mercy Mission in this age. As we prepare for the future each of us named practical actions we can take in the coming months as we lead into the new institute.
The fourth and final day of the gathering was an open forum with the leadership team where issues of concern and of interest where discussed. A dinner at the Bird of Paradise Hotel brought the time together to a conclusion.