Archived News Item
Sisters of Mercy Brisbane Celebrate Jubilees
May 7, 2006
The Sisters of Mercy Brisbane Congregation celebrated a significant milestone on Sunday April 23 when 26 sisters, who have served a total of more than 1500 years in the religious congregation, celebrated their Jubilee.
The sisters marked their platinum (70 years), diamond (60 years) and golden (50 years) jubilees of professed religious life at a Mass in All Hallows' Chapel followed by a function at Kangaroo Point.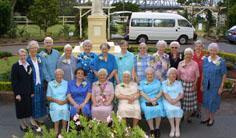 Brisbane Auxiliary Bishop Brian Finnigan concelebrated the Mass with Toowoomba diocesan priest Father John MacGinley, who is the brother of golden jubilarian Sister Patricia MacGinley.
A total of 32 sisters celebrated their anniversaries, but six were unable to attend.
Platinum jubilarians Sisters Mary Simeon Gabbett and Anne Ryan, who are both in their early 90s, were among those present. Another platinum jubilarian, Sister Mary Nicola Brady, was unable to attend due to ill health.
Nineteen sisters celebrated their diamond jubilees and five marked golden jubilees. Some of the diamond jubilarians had been part of the first group of postulants to enter the novitiate in Timoleague, Ireland, in 1943.
Because of World War II there was little hope of travelling from Ireland to Australia at the time and so they remained in their homeland until 1947. These sisters are the only ones in the Brisbane congregation to enter and be professed in Ireland.
When they arrived in Brisbane they joined with the group who had been professed in All Hallows' and they made their final profession together in 1949.

Messages to Sister Elizabeth O'Keeffe (Congregation Secretary)