Archived News Item
Sisters of Mercy arrive in Brisbane!
May 19, 2011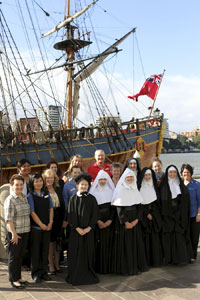 Students from All Hallows' School dressed up in traditional Mercy garb along with Brisbane Sisters of Mercy and 150 Ambassadors to recreate the arrival of the Sisters of Mercy in Brisbane 150 years ago with photos on the boat.
The Mercies' Brisbane congregational leader Sr Sandra Lupi said, despite the event being make-believe, watching the faces of the young students as they waved from the ship's stern led her to recall the courage of the original Sisters.
"Those young women – the youngest a postulant aged around 17 – led by Mother Vincent Whitty were so courageous," Sr Lupi said.
"They left their families in Ireland to travel on a boat for six months to an unknown land.
"Their level of commitment and belief that this was God's mission for them was remarkable.
"Mother Vincent too had left her project of founding Ireland's Mater Hospital unfinished such was her conviction of God's calling to this work in Australia."
The recreation aboard the Endeavour was part of ongoing celebrations to mark 150 years of the congregation's ministry in Queensland and of Brisbane's All Hallows' School.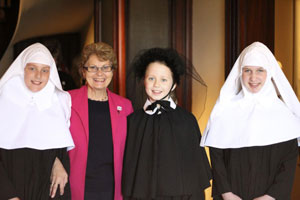 It recalled the arrival of Mother Vincent Whitty, newly professed SM Benedict McDermott, novice SM Cecilia McAuliffe, postulants Emily Conlan and Jane Townsend and English SM Catherine Morgan reached Brisbane on the coastal ship, the Yarra Yarra on 10 May, 1861, the foundation day of the Brisbane Mercy Congregation.
They arrived at the invitation of Bishop James Quinn, bringing the first Sisters of Mercy to Queensland and establishing the Brisbane congregation of the Sisters of Mercy.
The group had travelled from Ireland to Liverpool, leaving in December 1860 to make the trip to Australia aboard the Donald McKay.
Paul Dobbyn c/o Catholic Leader and Andrew Beiers
Messages to Andrew Beiers: andrew.beiers@livingmercy.org.au