Archived News Item
Sisters encouraged to read social justice report
April 2, 2008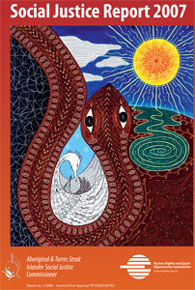 The Human Rights and Equal Opportunity Commission's Social Justice Report for 2007 was recently released by Tom Calma, the Aboriginal and Torres Strait Islander Social Justice Commissioner. As well as acknowledging critical issues, Mr Calma highlights the need to learn from experiences and to know of the many positive success stories.
The Aboriginal and Torres Strait Islander Social Justice Commissioner, Mr Tom Calma, recently released the Social Justice Report which has family violence and child abuse in Indigenous communities as its focus. While these issues have received on-going publicity over the last two years, the Commissioner wants to highlight the many positive success stories which endeavour to address these issues and learn from experiences rather than continue to focus solely on what has already been publicised.
The Commissioner believes the answers to Indigenous problems can be found in Indigenous communities. In the Report, Mr Calma says, "…it is so crucial to learn from successes, as well as challenges, rather than reinventing the wheel every time a new policy or program is announced. Tomorrow's national strategy should come out of today's success stories as we consolidate knowledge and experience".
In regard to ensuring that any measures taken to protect Indigenous women and children are consistent with human rights, Mr Calma states:
"Aboriginal children – wherever they live in Australia – deserve a future in which they have the same opportunity as other children to thrive, develop and enjoy life. They are entitled to such a future for no other reason than that they are human, born with dignity and in full equality to all other Australians.
Such equality involves being able to live and grow in safety… according to your culture. It is about being able to access quality health services to treat both physical and mental health issues in a culturally secure and timely manner.
It also involves living in an environment where… their choices are meaningfully backed up by the means to achieve them, such as access to basic services and the provision of education to both build dreams and hope, and create the personal capacity to achieve these.
For many Indigenous children across Australia, such equality is a pipedream. For some, overwhelmed by environments of dysfunction, it is not even dreamed of.
All Australian governments should be committed to ensuring an equal start in life for Indigenous children. Without this, the most vulnerable members of our society are required to overcome adversity merely to access what others take for granted."
Download the Social Justice Report 2007 here.
Close the Gap is Australia's largest campaign to improve Indigenous health
Find out more here.
From: Specific Issues Committee, Indigenous Concerns (Anne McGuire, Sisters Rose Glennen, Mary Quinn and Moira Truelson). The Committee warmly invites your response to the article or the issue.
Email: indigenous.concerns@mercy.org.au
Contact: Carmel Heagerty RSM, Institute Justice Co-ordinator
Email: Institute.Justice@mercy.org.au