Archived News Item
Sisters complete canon law course for leaders
October 31, 2010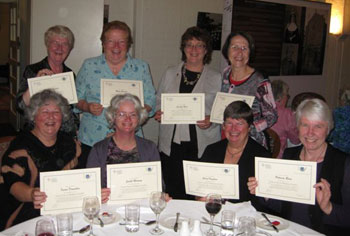 A canon law course designed specifically for leaders has been enthusiastically embraced by Sisters of Mercy in Australia and Aoteroa New Zealand.
Sponsored jointly by Catholic Religious Australia (CRA) and the Canon Law Society of Australia and New Zealand (CLSANZ), the course is run over three years and involves an intensive programme of five days each October.
In 2010, nine Sisters of Mercy completed the course and were awarded certificates. These sisters are Judith Moroney, Clare Vaughan and Patricia Rowe from Aoteroa New Zealand, and Barbara Bolster, Berenice Kerr, Beverley Strong, Carolyn Hunt, Mary Bennett and Karon Donnellon from the Institute.
Lecturers included some of the finest canon lawyers in Australia and from overseas and covered a breadth of topics related to religious life and the Church.
As the course is cyclical, it can be taken up in any year. The topic in the first year is an introduction to the sections in the Code of Canon Law for Institutes of Consecrated Life with specific emphasis on the vows and the obligations and rights of Institutes and their members.
The second year covers norms common to Institutes of Consecrated Life and governance of Institutes of Consecrated Life with associated civil issues in relation to administration of temporal goods.
The final year concentrates on the formation aspects of religious life, from initial to ongoing formation, as well as relationships with bishops and the restructuring of congregations.
In this third year we were fortunate to have as a key speaker Sister Sharon Holland IHM. Sharon has recently returned to the USA after 21 years working for the Congregation for Institutes of Consecrated Life and Societies of Apostolic Life. She brought with her not only extensive knowledge but a great deal of wisdom which she generously shared with those gathered.
The course was a wonderful opportunity not only to gain knowledge but to explore the complexity of religious life through the law that supports it.
Sister of Mercy and canon lawyer, Helen Delany, was instrumental in organising and lecturing throughout the three years.
From: Karon Donnellon RSM (Institute Councillor)