Archived News Item
Sisters attend UN conference in Melbourne
October 6, 2010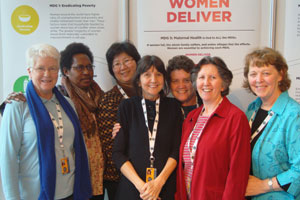 A number of Sisters of Mercy of the Australian Institute attended the 63rd United Nations Department of Public Information Non-Government Organisations (UN DPI/NGO) Conference in Melbourne from August 30 to September 1. The theme for the conference was "Advance Global Health – Achieve the MDGs". Carmel Heagerty RSM, Institute Justice Co-ordinator, reports.
"Health is the tie that binds all of the Millennium Development Goals together. If we fail to meet our target on health, we will never overcome poverty, illiteracy, achieve universal education and meet the other MDG challenges." UN Secretary-General, Ban Ki-moon and WHO Director General, Margaret Chen
In the powerful opening ceremony, numbers and images flashed before our eyes:
We live in a world of numbers,
numbers tell us where to go,
what it's worth,
what's hot and what's not,
sometimes they even tell us who we are,
it's not unusual for numbers to represent people
with only 5 years to go until 2015 to achieve the MDGs…
The numbers help us to make sense of it all
that is UNLESS of course you are the number!
One child dies every three seconds of hunger and preventable diseases
More than 100 million children remain out of school
Women do about 60% of the world's work in return for less than 5% of its income
More than 11 million children in Africa have lost at least one parent to HIV-AIDS
1.2 billion people do not have access to an improved source of water
For so many people across the globe the Millennium Development Goals (MDGs) are much more than eight time-bound goals that provide concrete numerical benchmarks for tackling extreme poverty in its many dimensions.
This three-day conference brought together 1,600 people, all passionate about the face behind the number, all calling for an accelerated approach to achieving the MDGs.
We seek not only to attain but to sustain the MDGs. The conference offered insights from so many professionals and on-the-ground workers in both roundtable discussions and workshops, ensuring both global and local voices were heard.
It was particularly beneficial to hear so many speakers from our nearest neighbours in Papua New Guinea and the Pacific Islands.
Read some of the reflections from our delegates:
For more information, look at the following websites:
Contact: Carmel Heagerty RSM, Institute Justice Co-ordinator