Archived News Item
Sister Valda Ward: RIP
October 2, 2008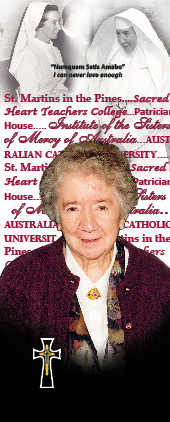 Ballarat East Sister of Mercy, Valda Ward died on September 18. Sister Veronica Lawson, in her eulogy delivered on September 24, paid tribute to a "tough-minded and tender-hearted" woman. She also acknowledged Valda's "leading role in the movement towards the creation of the Institute of Sisters of Mercy of Australia." The full text of the eulogy follows.
Welcome and Eulogy delivered by
Sister Veronica Lawson RSM (Congregation Leader, Ballarat East)
on September 24, 2008
Welcome
We acknowledge the original custodians of the land, the Wathaurong people, and place this message stick before the altar in recognition that we stand on holy ground.
Today is our Mercy Feast Day. What better day to honour a Mercy woman? It is my privilege to welcome you all on behalf of the Sisters of Mercy and of Wilma, Genny, Bill and their families to this celebration of the life and entry into eternal life of Valda Mary Ward, a Sister of Mercy and a woman with altitude. In particular, I welcome Fr Adrian McInerney our parish priest and main celebrant, Bishop Mulkearns who was a good friend to Valda, Fr Leo Donnelly, Fr Damien Heath who has known Valda since they were children in Casterton, and priests of this diocese and elsewhere who were her friends and ours. I welcome Sisters of Mercy from all over Australia, members of other religious congregations, Valda's former colleagues from ACU and St Martin's, students and friends from every phase of Valda's life, and the ever faithful staff of Talbot Place. After the Mass, we invite you all to join us for refreshments at the Mercy Gathering Centre to continue the celebration of Valda's life.
Eulogy
And now to the eulogy! I have here a little document dated 15.12.1958. It is a letter of recommendation addressed to the Reverend Mother and signed by Fr William McGrath, PP of Casterton. It reads in part: "Valda needs no recommendation from me. Believe me she is everything that a young Catholic woman should be. She will be a credit to Ballarat East. Sincerely yours in JC. W. McGrath." That letter was written exactly eleven days before Valda took the plunge and threw in her lot with the Sisters of Mercy, the spiritual daughters of Catherine McAuley. Some three months earlier Valda had come back to SHC and signed up. On that occasion, Mother Marie Therese escorted her around the classrooms and introduced her to the students. I remember that day. She came into our French class and addressed us in French. The room was suddenly full of French. I remember her dancing eyes and striking demeanour. I remember hearing something of Valda's story later that day from Sr Anne Forbes who had been at school with Valda. I had a clear sense that Valda was a former student of whom everyone was immensely proud, someone who embodied the values of the school. It was no surprise to any of us when she later turned up as a postulant.
As you came into the church today you received a bookmark bearing a photo of Valda and the words of her motto, "I can never love enough". Valda's brother Bill will speak of her love for the family, a love that was evident to all, most recently in the look of recognition for her sisters and her niece in the days before her death. In my 50 year association with Valda, since that first encounter at SHC, I have had ample opportunity to witness the dedication with which she lived her motto, and the manner in which she realised the promise expressed by Fr Bill McGrath.
Valda had taught for some years before she joined the Mercies. The School Inspector's report of 24.07.1957 refers to her "use of modern techniques" and comments on "the very good response" she received in her classes. Music and drama were an integral part of those classes. Valda continued throughout her life to be an innovative and amazingly effective educator, in schools, in teachers colleges, and in Australian Catholic University. Countless students attribute their success in life to her teaching and to the confidence she inspired in them.
Valda was herself a lifelong learner and researcher. She told me not so long ago that her 1991 Diploma in Social Justice from YTU was her most significant qualification. "That's what all the rest was about", she said. Indeed her studies, from BA to PhD to Diploma of Theological Studies, were consistently directed to the advancement of knowledge and wisdom for the sake of a more just and equitable world and to the living out of her motto. In other words, she was "ambitious for the higher gifts of faith, hope and love" and she knew well that "the greatest of these is love". She featured twice in the World Who's Who of Women and earlier this year was honoured Among Ballarat's Finest: A Showcase of Achievement and Contribution by Ballarat's Women.
Valda always enjoyed her work. She loved those with whom she lived and worked: in Ballarat East where she did her novitiate and later served for eight years as Congregation Leader; at Patrician House where she ran the Teachers College; at St Martin's in the Pines where she taught in the early days and then spent 12 years as Principal; in Armidale where she did most of her studies; in Ascot Vale where she headed up the Campus; and last but certainly not least at North Melbourne. I asked her once to tell me about her favourite ministry. She replied without hesitation, "Anything I did for the Sisters". Just as Valda inspired confidence in her students, she also gave many of our sisters the confidence to take up study and research, to extend their horizons beyond what they ever thought possible. At that time, I happened to be Valda's vicar. It was a time of transition and change in the church and in the world. Not everyone shared Valda's world view and she had no lack of critics, but she had an extraordinary capacity to turn the other cheek. Her immediate response to an adverse reaction was to indulge in retail therapy – generally furniture in those days before Hong Kong specially crafted clothing became an option for her. Incidentally her trips to Hong Kong turned out to be a blessing for someone on a Mercy budget and a love of clothes. Last Christmas, she informed me that she wanted new shoes for Christmas. I said, "You do not. You're getting like Imelda Marcos and in any case everyone remarks on how good you look in those lovely pewter coloured shoes!" "Oh, do they? Then get me the DVD of Double Jeopardy."
Her contribution to the sisters went far beyond the Ballarat East Congregation. During her eight years as our Congregation Leader in the 1970s, she played a leading role in the movement towards the creation of the Institute of Sisters of Mercy of Australia. Some of those with whom she worked and dreamed are here today, in particular Catharine Courtney, Marie Gaudrey, and Dorothy Campion. Valda travelled to Rome with Dorothy Campion, who was to be our first Institute President, to present the petition for acceptance of a new structure. In more recent times Valda has taken a vital interest in the reconfiguring of our Institute. She was never afraid of change. She understood the pain that is often involved in the process of change, but that never deterred her from moving to a new and more life-giving place. I reminded her the other day that her work is not yet finished. I am confident she will be with us as we take the next step in our reconfiguring journey.
Over the past five years, Valda has lived at Talbot Place. After her stroke on August 17, 2003, she adjusted to a life of near total dependency with courage, determination and faith. She who could never love enough was surrounded by love, from the wonderfully dedicated staff, from immediate and extended family, from former colleagues and students, from innumerable friends, and of course from her Mercy sisters and friends. Tricia Vagg deserves special mention as an extraordinarily devoted carer and reader from the outset. Tricia remained with her to the end. Carmel Giles was neighbour to Valda and trusty substitute reader in Tricia's absence.
The gospel for today is Matthew's version of the beatitudes. Valda lived the beatitudes. Believe me, she was everything a Mercy friend should be. Blessed are the merciful, Valda, for they will be mercied, to use a literal translation. Like Catherine McAuley, you were "tough-minded and tender-hearted". May you be mercied forever in the embrace of a loving God.