Archived News Item
Sister shares UN experience with Mercy associates
August 26, 2009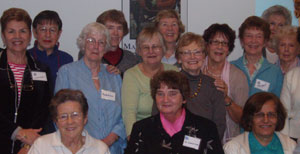 The "Circle of Mercy" Associates Group of the Wilcannia-Forbes Congregation recently enjoyed a challenging and informative session with Christina Aitken RSM (Wilcannia-Forbes). Christina shared her experience of a programme offered by Mercy Global Concern at the United Nations in New York. Nance Cale RSM, Local Communications Facilitator, Wilcannia-Forbes, reports.
On August 17, the Circle of Mercy Associates Group enjoyed challenging and informative sessions as Sister Christina Aitken RSM shared with the group her experiences and reflections on her two weeks last year at the United Nations in New York. Time for reflection, sharing and questions were appreciated by all who participated.
Christina shared her passion for mercy and justice and inspired us to become more diligent in these causes in our own lives and the lives of others.
The sharing of her personal journal reflections was very moving and touching. To feel so vulnerable and helpless at the overwhelming enormity of injustice, oppression and suffering of women in our global world was very confronting.
Associates agreed the sessions were energising opportunities to deepen understanding and awareness of the injustices experienced by so many of our sisters and brothers in oppressed countries. Thirty-three of the Mercy Associates were enthused and appreciated being given such a clear insight into the powerful influence of Sisters of Mercy and especially Sister Deirdre Mullan's role in the United Nations. This was a new revelation for many.
Towards the end of her time with us, Christina shared with us her current role as a prison chaplain in Corrective Services at Lithgow – a ministry that touches the lives of the most needy and vulnerable in our society. Christina's compassion is truly an expression of mercy of which our Catherine McAuley would be proud… as are we and our Associates!
From: Nance Cale RSM, Local Communication Facilitator, Wilcannia-Forbes and Co-ordinator of the Circle of Mercy