Archived News Item
Sister Mildred O'Brien rsm
September 22, 2014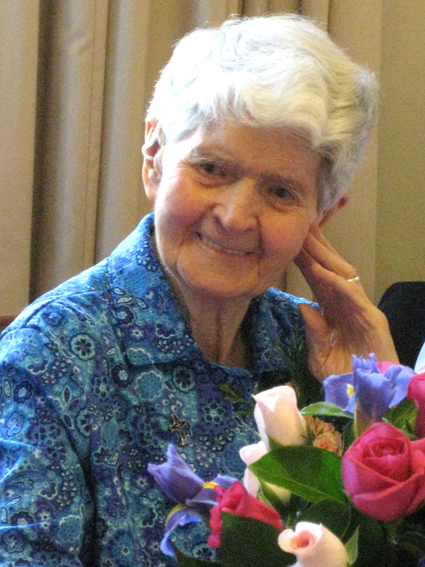 Sister Mary Mildred O'Brien was born on January 23, 1908 and died on August 23, 2014. Her life was lived to the full for more than 106 years and the words spoken at her funeral share that life with us.
We gather here today, at St Michael's Ashburton, to honour and pray for Sister Mary Mildred O'Brien, aunty Nellie to her extended family and to many of her friends and especially Sisters of Mercy affectionately known as 'Millie'. We bring a host of special memories of a woman whose life spanned more than 106 years. Many of our memories will be shared with others, but for each of us there will also be that unique memory of a much loved aunt, teacher, friend and Sister of Mercy.
Ellen Elizabeth O'Brien – the third daughter of David and Catherine was born on a very hot 23rd January 1908 at Woolshed Flat, Korong Vale in North West Victoria. Her birth was followed by that of two more children and in Millie's own words 'we had a very lovely family of 11' – six boys and four girls. Hers was a simple, carefree life, walking with her brothers and sisters to attend the one teacher state school, enjoying nature, paddling in the creek, running out to see the first car that ever came to the district, reading in bed by candlelight (despite her mother's warning she would be blind before she was 21) and numerous adventures such as climbing with her brother into the railway culvert just to see what it was like to have the train rumble above you! But world events were soon to impact on that idyllic childhood with Ronnie, Doug and Mick all enlisting. We can only imagine the mix of pain and patriotism of a six year old farewelling her brothers as they left for the battlefields of World War 1. This was when Mildred's life-long pleasure in letter writing was born, as the family exchanged frequent letters with the three brothers. The deaths of Doug and Ronnie overshadowed the joy of Mick's return. The sense of loss of two much loved brothers was etched deep within that young girl. When her niece Margaret was travelling overseas just a few years ago, Mildred begged her to bring back something from Ronnie's grave. When Margaret gave her a small white stone from near Ronnie's grave, Mildred treasured it as if it were a bar of gold – one of those special memories Margaret holds. Thankfully the remaining members of the O'Brien clan lived long lives with six of the eleven reaching their 90's and between them spanning the years from 1890 to 2014.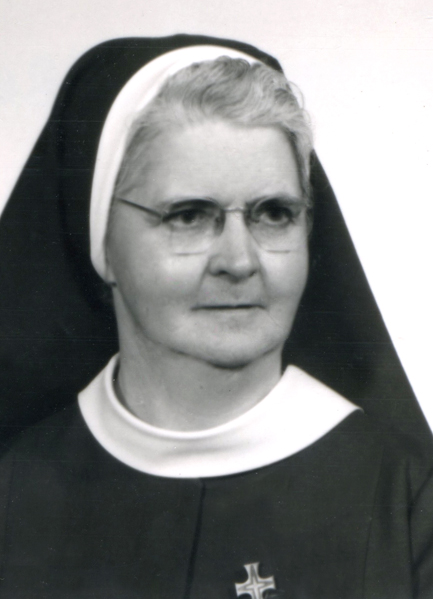 Completing her merit (Year 8) at the age of 11 years, Mildred spent another year preparing for a scholarship – perhaps an omen of what later was to become an important part of her life as a Sister of Mercy. Then in 1920 Mildred went to board at Sacred Heart College Kyneton with the ambition of becoming a teacher. In 1923 this ambition became a call to be a Sister of Mercy. On 19th March 1924, with her parents' blessing, Mildred entered the Mercy novitiate at Ascot Vale, along with 18 others. She took with her a copy of the Advocate and a box of chocolates, neither of which she ever saw again! Mildred was professed on 27th January 1927 and finally professed in 1933. In choosing her motto 'Trade till I come', Mildred would never have envisaged her long life ahead as a Sister of Mercy, with the extensive changes in society, in the Church and in particular in religious life. After completing her teacher training and gaining registration as a junior secondary teacher, Mildred embarked on her dream as a teacher, through which she was to touch so many lives. First there were postings to Melbourne primary schools, and then to country schools and principalships at Mornington, Yarrawonga, Pascoe Vale and Geelong West. In 1943 Mildred was appointed to St. Anne's West Melbourne, where she taught the scholarship class until these central schools were closed. This is where she has left a great legacy in Catholic Education, for here her skilful teaching ensured that hundreds of young women were able to gain Junior Government Scholarships and so go on to complete their secondary education. Those who were taught by Mildred knew her as a strict but very fair teacher, who demanded high standards of both herself and of her students. She was genuinely interested in each student she taught and maintained contact with each one, establishing enduring friendships with so many of them over the years through letters, phone calls, visits and even emails. I doubt that she ever forgot any of her students, which class they were in, who their friends were. Although strict, with that twinkle in her eye, Mildred could also have fun with her students. I recall her reminiscing with my mother, whom she taught at Casterton, about the long Sunday walks the nuns would take with the boarders. On one such walk, Mildred was so envious of the fun the girls were having rolling down the hill that she turned up the skirt of her habit and rolled down with them. I am sure Reverend Mother was never told about this adventure!
After her last teaching appointment at the Academy of Mary Immaculate, Mildred spent three years researching and writing the biography of Mother Mary Patricia O'Neill, a famous educator and a significant leader of the Sisters of Mercy. It was truly a labour of love as Mildred greatly admired Mother Patricia and valued her friendship. In her later years, Mildred was a resident of the Sisters of Mercy Hostel in Lilydale until those hostel beds were transferred to Cabrini Ashwood, where Mildred became one of the first residents in 2002. But retire she did not! This change in residence just gave her more time for her letter writing and reading and even the occasional grammar lesson, as her niece Margaret discovered! Having asked Mildred to proofread some writing, Margaret was told that she had split the infinitive and, upon admitting that she did not know what that was, she was promptly given a grammar lesson. Mildred was an avid reader; books and authors were her friends. She reflected on what was happening. She was not backward in voicing her opinion but she also listened to others and sought out views before she finally made up her own mind. She was able to accept changes, admitting some were difficult while others were embraced with open arms. The key to this was her unwavering motive to give her life to God as a Sister of Mercy.
I am sure that many of you here today have been the recipient of one of Mildred's letters with its impeccable English, copperplate hand writing, wit and genuine friendship. Often Mildred revealed much of herself in these letters. Some years ago, Sister Antoinette Burke shared one such letter with me. It was Mildred's reply to some banter that had been exchanged between them when Antoinette offered to paint Mildred's portrait, suggesting various styles based on the Masters. In reply Mildred said Your 'Windswept' creation appealed, it personified the freedom of spirit that pervades these times; yes, 'the liberty of the children of God'. 'Moody' and 'Pensive' I reject utterly, as they are unworthy of a Sister of Mercy who has overcome moods, and who has no time to be pensive; if you had written reflective I may have considered that portrait. The sculptured model would be cold and unfeeling. Finally declining the offer, Mildred just asked to be thought of as a non-entity. That we cannot do. She is very much part of us today.If she were able to speak for herself, she would be thanking you all for coming, thanking those who have loved and cared for her over the years and, most of all, thanking her God.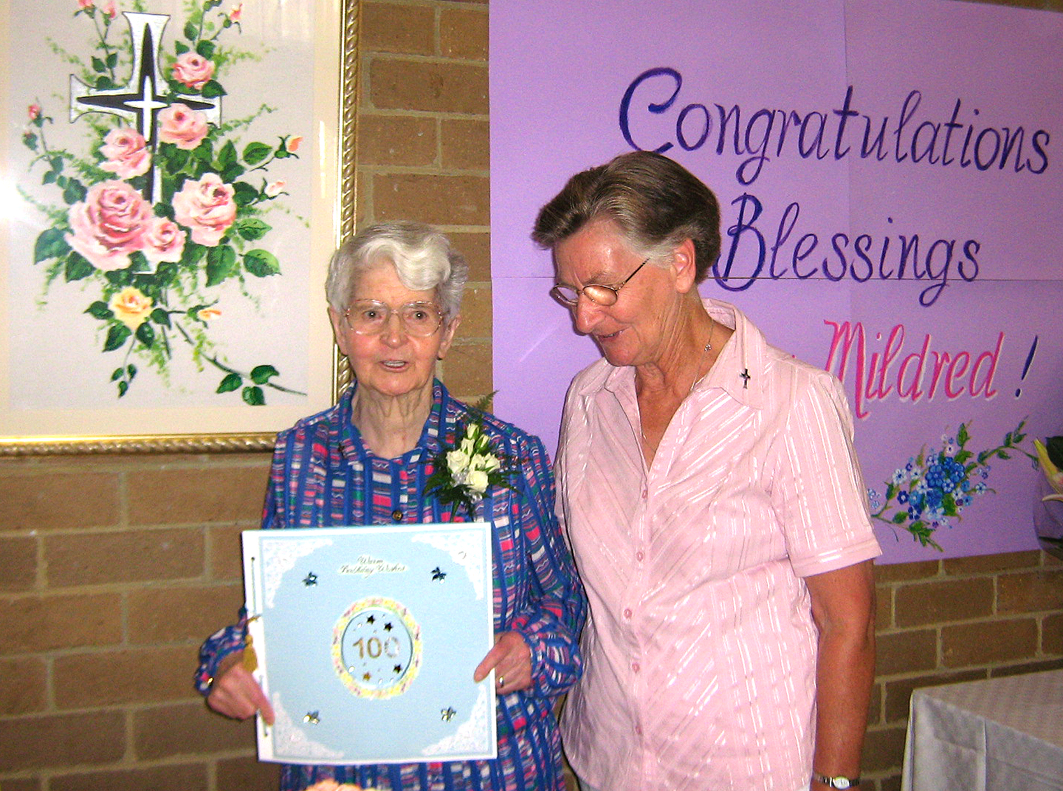 At her hundredth birthday celebration – a celebration her nephew John had anticipated by organising a 99th birthday party, inviting all the family in case she did not reach her hundredth – Mildred concluded her speech with a quote from the poem "Pioneer" by Frank Hudson: We are the old-world people, Ours were the hearts to dare; But our youth is spent; Our backs are bent; And the snow is on our hair. There were a few more years until Mildred slipped quietly and quickly away on last Thursday 21st August. Now, yes, Mildred, indeed your youth has been spent but spent well, so Millie may you now be enfolded in the loving arms of your God whom you have loved and served so well; may you be embraced by family and friends and especially by Catherine McAuley and the hundreds of Sisters of Mercy, whom you have known and loved and with whom you have shared the ups and downs of community life. Thank you for having the heart to dare and for challenging us to do the same. Farewell and go gently, dear friend.
Messages to: Eileen Ann Daffy
Photo: Sr Mildred with Sr Maureen Lohrey