Archived News Item
Sister Mary Eunan Hickey celebrates "100 years of me"
May 3, 2007
Yet another Australian Sister of Mercy has celebrated her one hundredth birthday. Sister Mary Eunan Hickey of Brisbane Congregation, who was one of 49 young Irish women to arrive in Australia in 1924, celebrated her birthday recently with Sisters of Mercy, family and friends at the Emmaus Nursing Home in Brisbane. Sister Mary Brenda Browne, aged 102, and Sister Mary Senan, aged 100, also part of the band of 49 from Ireland, joined in the celebrations for Sister Mary Eunan.
On Monday April 16 2007, the Brisbane Congregation celebrated Sister Mary Eunan Hickey's (in her own words) "a hundred years of me". The celebrations took the form of Mass in the Emmaus Nursing Home, where Eunan resides, followed by a celebratory morning tea. Joining Eunan for the occasion were two of her grand-nephews who were on holiday from Ireland, and a great grand-niece who is on a working holiday in Australia with a friend. Also among the guests was one of her pupils from her days in Helidon in the late forties and early fifties.
Sister Mary Eunan was one of 49 young Irish women who came to Australia in 1924 to join the Brisbane Congregation. Sister Mary Brenda Browne, aged 102 in May, and Sister Mary Senan, aged 100, who also were a part of this group, joined Eunan in the celebrations. All three sisters have received a monetary Centenary Bounty Award from the Irish Government. In commending the three sisters, the Minister, Brian Cowen, from the Irish Government said, "I am delighted to join with others in wishing these sisters my warmest wishes. These three women have dedicated long lives of service to others. We are enormously proud of them." Later this year, Sisters Mary Eunan, Senan, and Brenda will celebrate the eightieth anniversary of their profession.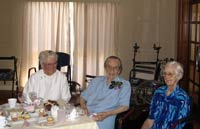 Sister Mary Eunan taught in a number of our suburban schools in Brisbane as well as in the more far-reaching places like Charleville and Cunnamulla in the far west of Queensland. As well as being both Superior and Principal, many of the country convents also involved caring for boarders.
Sister Mary Eunan is a very sociable, well read, most gracious and very hospitable woman who is now enjoying her retirement at Emmaus.
From: Elizabeth O'Keeffe RSM Congregational Secretary.