Archived News Item
Sister Mary Eugenius Fox: RIP
March 5, 2008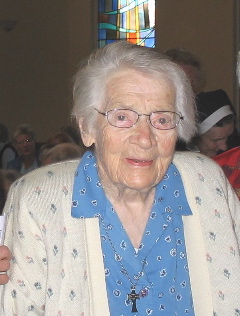 Sister Joan Smith (Local Communications Facilitator, Perth) reflects on the life of Sister Mary Eugenius Fox (pictured left) who died recently at the age of 98 years.
"Celebrating Life", the words on the vigil booklet for Sister Mary Eugenius Fox of Perth Congregation said it all! Pictures placed on a memory board showed something of who Eugenius was – a lover of people, a lover of celebration, a lover of creation and the God who gave these gifts. There were very few photos of her "doing", nearly all of them showed her "being" with people – at parties, at luncheons, visiting the laundry, the kitchen, the various hospital floors, in the garden…
In 1937, Eugenius was one of the four founding sisters of St Anne's Hospital (now Mercy Hospital Mt Lawley). The number of present and past staff who came to her funeral and those who visited her in the Hostel is testimony itself of their love for her.
Eugenius trained at the Mater Hospital in Brisbane, and brought wisdom, compassion and mercy to the healing ministry in Perth. "She gave me my job in the laundry when I really needed one and I have been here [Hospital] all these years and am now ready to retire. Sister appreciated the tiniest thing we ever did and always remembered to visit us even though she was the head," recalled one person.
Coming from County Tyrone in Ireland, Eugenius appreciated the distance and family separation that other sisters experienced. She returned to Ireland and was responsible for accompanying young Irish women to Perth who were offering their lives to the Australian mercy mission. Eugenius, always in the background, kept a watchful eye on these women as they moved into various ministries and was always interested in what they were doing.
At one stage, she was also in charge of the Juniorate at Mosman Park, and Marie Fitzgerald now working in Mercy Hospital, spoke very warmly of her "motherliness" and also "ordinariness" as they, teenagers, reflected on whether to continue their journey as vowed Mercies.
Always one to have a quiet joke, nothing was lost on her and her quick wittedness often took us by surprise. We knew her death was imminent and two sisters called in each evening after their walk. This was not lost on her and one evening she opened her eyes and said, "You two will be up for loitering if you don't watch out."
So at 98 years, only a short time after her birthday, Eugenius passed away quietly while saying the Rosary. She died as she had lived – quietly and without fuss. Yet, the attendance of so many at the church for the funeral Mass was testimony of how she had been a true Mercy woman to so many people.
From: Sister Joan Smith RSM (Local Communciations Facilitator, Perth)
Email: joanis@ozemail.com.au