Archived News Item
Sister Josette McDonell: RIP
July 9, 2008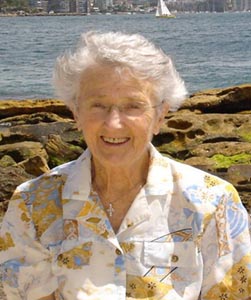 Sister Josette McDonell (pictured right) of the North Sydney Congregation died recently. Sister Sharon Price commenced her eulogy with some advice she'd received from Josette: "You know what they say about eulogies: someone lying in a coffin and someone lying in the pulpit." Sharon continued: "[Josette] asked me to be sure and not put a gloss on her life but to tell it the way I experienced it, given that we lived in community together longer than she lived with any other congregational members.
Eulogy delivered by Sister Sharon Price RSM (North Sydney) on June 30, 2008
When Josette asked me to give her eulogy she said, "you know what they say about eulogies: someone lying in a coffin and someone lying in the pulpit". She asked me to be sure and not put a gloss on her life but to tell it the way I experienced it, given that we lived in community together longer than she lived with any other congregational members. So that is what I have endeavoured to do, to capture the essence of the Josette we all knew and loved, to tell the stories of her life and in doing both, to honour the truth. She gave me other instructions: to write a happy eulogy, to make it snappy, to speak up, to check everyone can hear! Can everyone hear?
We loved Josette because of who she was – a loving daughter and sister, a true friend, a painstaking teacher. Someone who pushed the boundaries. Who loved life and lived it without reservation. A woman of constancy and of enthusiasms. One who held life-long passions but one also who pursued and then relinquished ideas, occupations and relationships. Josette was a straight-talker, outspoken, opinionated. She held nothing back. Faced with pain and illness she was stoic, matter-of-fact and strong. To the end she lived her life, she didn't retreat from pain and difficulty and she maintained her interest in others.
Knowing many members of Josette's family helped me understand her character, formed initially by her childhood on the North Coast of NSW, the youngest of eleven children of Nell and Don McDonell. The Scottish and Irish heritage of the family was important to Josette and no doubt contributed to her determination and her healthy disregard of authority, and to her strong faith. Josette was a great recounter of the stories of her childhood and of her family:
of her sister Kathleen taking a yet to be school age Josette with her when she was teaching school in another country town, such was the difference in their ages – but they were always close because of that experience;
of the death of toddler Austin and the heartache that was for the family;
of the mischief the children used get into while Mother was lying down in the afternoon;
of the free life they lived at Kundarang, playing and riding horses;
of the experience of coming to St Scholastica's in Glebe to be boarders.
In all of Josette's many stories about her family, the abiding feeling was that of the great love that existed between all the siblings and their parents, love which continued until the much-mourned death of each. Flora, Tom, Kathleen, Alex, Agnes, Austin, John, Jessie, Joan and Helen all pre-deceased Josette. The seven girls in the family joined the Sisters of the Good Samaritan or the North Sydney Sisters of Mercy, John became a Redemptorist priest, Austin died very young and Tom died in his late teenage years. Only Alex married. Josette loved Alex deeply and spent many weeks in Kempsey with him in the last years of his life. Alex's son Peter, with his wife Denise and sons Ryan and Cameron were beloved of Josette and she spoke about them often. To Peter, Denise, Ryan and Cameron we offer our deepest sympathy, knowing that you have lost a treasured aunt and great-aunt. Loved, too, were Josette's cousins – the Jagos – John, Ted, Helen and Mary and Meg Vella. Josette had great capacity for being involved in the life of her extended family and treasured the friendships she found there.
Friends were always important to Josette. Some of her most faithful friendships had been a constant in her life for 60 years. Many of the sisters in the Novitiate with Jo, remained life-long friends, especially Janet Quade, Pat Barton and Patricia Kerin – Jo's closest friends. Janet and Josette shared the experience of growing up in the country, of not being ex-students of Monte and also shared years teaching together in various of the schools of the congregation. Pat Barton knew Jo before they entered and was posted with Josette to Pymble. Patricia Kerin spent years at St Patrick's Church Hill with Josette – years enlivened by Josette's sense of fun. Janet, Pat, Patricia and Jo have spent 60 years as friends: sharing the ups and downs of life, knowing and loving each other's family members, living in the same convents, taking holidays together, praying together, supporting each other and being constant companions. To Janet and Pat and Patricia we offer our sympathy and the understanding that they have lost a wonderful friend. Josette was a faithful friend also to other of her Novitiate companions – those who stuck together, who defended each other, who saved each other from Mother Alexius.
Josette had a great zest for life, she was enthusiastic and energetic, warm and funny. She always sought to live life to the full, even in places where that was not appreciated – like the Novitiate. There are numerous stories about Josette's exploits in the Novitiate where she was often in hot water with Mother Alexius; but not even the ire of Alexius could dampen Josette's spirits. Her great sense of humour, her healthy disregard for authority and her self-confidence carried her through situations which would have daunted a meeker spirit. That zest for life was not dampened by some difficult assignments: Josette soldiered on! There are stories of teaching at Waterloo and wanting to create a spark of interest and life for the children by getting some colourful material for the classroom. Numbers were not Jo's forte and a bad set of measurements saw Josette and Janet Quade struggling home from the city with 30 yards of green plastic with yellow flowers instead of the maybe 13 yards they needed for the job. Needless to say, their classrooms were festooned with the excess! The famous Pymble concerts were bigger and better with Josette on deck: except when the child was told to "Look to the Star, call upon Mary" and the star was nowhere in evidence! Josette, as well as being generous of spirit, was hard-working and this trait was very visible in her teaching ministry.
Possessed of a wide general knowledge, a prodigious memory, a great love of literature – fiction, poetry and biography – Josette enjoyed classical music, theatre and films. She often rued the hours that went to waste in the Novitiate, because she had achieved her Leaving Certificate before she entered. Josette trained as a teacher as did so many sisters of that time, at St Patrick's School at Church Hill. Like all the women of her family, Josette was an outstanding teacher, a born teacher, a gifted teacher. She educated children inside and outside the classroom and was very perceptive about the needs of her students. Her own love of learning transmitted to her students and, along with her encouragement of each and every child in her class and her provision of well-formulated and interesting lessons resulted in students who were eminently ready for the next year's class. Being versatile and adaptable, Josette taught at many of the primary schools of our congregation in the late 1940s, in the 50s, 60s and 70s. And participated in – or perhaps encouraged! – the fierce competition between the schools in the netball stakes. In her early fifties Josette gained a Bachelor of Arts degree from Armidale University, which prepared her for her next ministry as senior lecturer in English at Mt Hagen Teachers' College in Papua New Guinea. Her last ministry in education was as an English lecturer and dean of women students at Kerevat National High School on the island of Rabaul in PNG.
Another of Josette's reasons for asking me to give her eulogy was because I saw her life in Papua New Guinea. I visited Josette when she lived in Rabaul, and I was slightly nervous about spending a week with a sister I had barely met. My apprehension was allayed by Josette's warm greeting at the airport – the airport with the smell of rotten egg gas and the ancient gigantic volcanic crater that provides the perfect circle of Simpson Harbour.
The drive from the airport to Kerevat where Josette lived on campus, was along a narrow road winding its way around the glittering waters of the harbour, through the coconut tree villages of thatched huts surrounded by colourful flowerbeds and tropical fruit trees, where Tolai children with their blonde hair and wide smiles stopped their play to wave at passing traffic. Rabaul had an air of somnolent tranquility and a landscape of enormous beauty. Life was slow at Kerevat and I learned to appreciate the very different life Josette led in Rabaul as we meandered along the roads that lead to the various plantations and missions that dotted the coastline.
Josette's house was tiny and simple and outside her door the fertile volcanic soil proved ideal for growing stunning tropical shrubs and flowers. We spent many hours that week in the car, as Josette took me to visit her friends and her favourite places – the war cemetery at Bitapaka, the hot mud springs at Matupit, the tunnels used by the Japanese in the war, the beaches where she went snorkeling with her great friends – the Mannions and the O'Donoghues.
For Josette, Simpson Harbour and, in fact, most of the waters around Rabaul were a snorkeling bonanza of reefs and sunken ships which offered her breath-taking scenery and a time of peace and quiet, a respite from the humidity of the climate. For all that she suffered many bouts of malaria, Josette loved Rabaul and her time teaching there, just as she had loved her time in the Highlands at the Teachers College in Mt Hagen and the opportunity to visit with Helen, when Helen came in from her school inspection rounds. We appreciate the presence of so many of Josette's friends from her PNG days with us today: her great friend Helen White, and Tess and Cynthia, Rosemary and Rita, Angeline, Valda and Joan.
Josette was a very creative person, evidenced in her gardens in Kerevat and in her last home at North Sydney, in the beautiful and exceedingly fine crochet work she excelled at, in the little painted cards she made for feastdays and special occasions in years gone by and in the calligraphy and the cards she made with love in recent years. Particular about the way she did things, Josette would spend hours in all sorts of creative endeavours. A fine cook, Josette liked nothing better than to make a meal or a cake and share it with neighbours and friends. Tennis was another of Josette's passions and she would frequently go to bed for a few hours at night then get up at 1am to spend the rest of the night watching the tennis from Wimbledon.
Josette was a great talker. Whether she was telling family stories, or recounting tales of Novitiate days, or speaking of past students, or reminiscing about her time in Papua New Guinea or just chatting about the day's happenings, Josette was pretty much always talking. In her times of better health, she would be out and about with family and friends, talking up a storm. In more recent times, she relied more heavily on the telephone. But until the end, she loved to talk and she maintained her interest in everything and everyone.
In her early thirties, in the late 1950s, Josette had the first of the operations on her back. She spent many months lying face down in bed, unable to move many parts of her body and encased in plaster. After being released from hospital, she returned to school, still encased in a full body plaster – the weight and the heat of which would have defeated a less determined person. Josette made a great friend in those years, a Mater nurse, nicknamed Lobby – Lobby and Josette remained friends for over 50 years. Josette's life since the 50s was affected by back pain. Not that Josette paid that pain much mind: she was courageous, stoic in her suffering and determined to go on. In the fourteen years I lived with Josette after she came home from PNG, I was hard put to get her to acknowledge being in pain – I never heard her complain. During those years she was diagnosed with the cancer with which she lived to the end. Again she didn't complain, she had treatment after treatment and enjoyed the good days and weeks and months and years and suffered quietly and courageously through the bad times. She had a lively relationship with her doctors over the years: with Dr Dwyer in the early years when her back was the issue; with Doctors Ravich, Boyle and Moran in the treatment of her cancer. To her doctors and the nursing staff in the Chemotherapy Cottage and at the Mater Hospital, we offer our thanks for your compassionate care of Josette.
Josette was grateful to those sisters who made a home with her and for her. She often spoke about those she'd lived with over the years and she appreciated very much Jenny Bailey and Rosarii O'Connor who lived with her in McLaren Street in recent years. Josette was grateful for their care of her when she was not well and their companionship when times were better.
In her great capacity for friendship, Josette attracted many friends. Some were long-standing and some relatively recent. From extended family and school friends, to congregational members and carers, to friends she made in the last years of her life – Josette was blessed with the love of many people who cherished her. From all of us who loved you Josette, we are in sorrow at your death and we will miss you – but we are all the better for having known you and you will remain in our hearts forever.
Messages to: Sister Loreto Conroy (Local Communications Facilitator, North Sydney)