Archived News Item
Sister Josephine McMahon: celebrating 70 years of service
September 27, 2007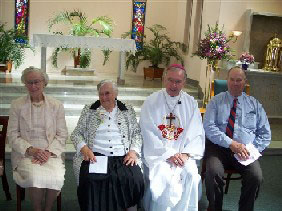 Sister Josephine McMahon (Rockhampton) celebrated her platinum jubilee on August 18, beginning with Mass in Our Lady of Good Counsel Chapel, the Range Rockhampton, presided over by Bishop Brian Heenan. The celebrations continued at the League's Club with sisters and many family members who travelled from afar to be with Sister Josephine.
Father John Daly of the Cathedral Parish in Rockhampton wrote the following for the parish bulletin on the weekend of Sister Josephine's jubilee.
"Last Wednesday we celebrated the Feast of the Assumption. The Gospel of the day contained the prayer of Mary, the Mother of Jesus, which we commonly call 'The Magnificat'. And Mary said:
'My soul proclaims the greatness of the Lord and
my spirit exults in God my Saviour; because He
has looked upon this lowly handmaid.'
"I know quite a few women who, in the shadow of Mary, could faithfully and humbly pray this pray.
"One woman who immediately comes to mind is Sister Josephine McMahon. This weekend Sister Josephine is celebrating seventy years as a Sister of Mercy; seventy years proclaiming the greatness of the Lord; seventy years of bringing Good News to the lives of people of all ages. In recent years she has been one of the gems of our parish.
"Each week she visits the aged in aged care homes and in hospital. Two days each week she visits people in their homes, many of whom are housebound. On one day she has Father Frank Gilbert visiting with her on the other Father Andrew Chase. They look forward to their time with her as she ministers in her own special way to the aged and the sick. She, in her simple love of people, is able to lift the spirit of those people she visits. They could say 'My spirit exults in God my Saviour.' Sister Josephine, congratulations and thank you from the whole parish.
"As we thank Sister Josephine, we are also mindful of the extraordinary and often quiet, ongoing contribution of the many Sisters of Mercy who are a vital part of our parish community.
"Their parish ministry – their care of people and involvement in the spiritual, liturgical, prayer and social life of the parish – is an invitation for us to 'proclaim the greatness of the Lord' and like Mary find joy in our lives through the sisters' witness.
Pictured left to right: Sister Josephine's sister Clare Montgomery, Sister Josephine, Bishop Brian Heenan and nephew John McMahon.
From: Sister Kerry-Ann Sullivan rsm (Local Communications Facilitator, Rockhampton)