Archived News Item
Singleton sisters fundraise for Mercy Works Inc.
October 19, 2009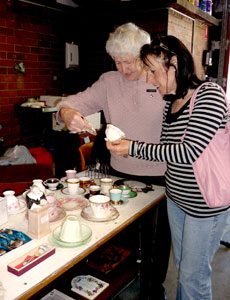 On the weekend October 9-10, Singleton Sister of Mercy, Yvonne Wynn RSM and a team of volunteers hosted a fundraising event for Mercy Works Inc., the Institute's relief and development agency. Through a very successful garage sale, the team raised in excess of $2000 for community development projects overseas and in Australia. Rita Hassett RSM (Singleton) reports.
These days, when the general population as well as our Mercy communities are very mobile, it is a wonderful time to raise funds by having pre-loved goods sales. The Singleton Congregation has held such a sale which has proven a valuable source of funds.
This year Yvonne Wynn RSM and her working party invested a great deal of time and energy into a garage sale held on the weekend October 9-10. The proceeds, in excess of $2000, will go to Mercy Works Inc.
The light-hearted interaction between the sisters and the buyers gives opportunity for a new expression of visitation of old.
From: Rita Hassett RSM