Archived News Item
Singleton sisters celebrate Jubilees
October 26, 2006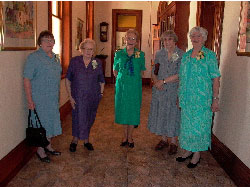 On the eve of the feast of Our Lady of Mercy Singleton Sisters of Mercy gathered in their beautiful chapel at Singleton to begin the celebration of the Platinum Jubilee of Sister Catherine Winters, the Diamond Jubilees of Sisters Winifred Carr, Elizabeth Cahill and Bernadette Hoffman and the Golden Jubilees of Sisters Yvonne Wynn and Joan Adams.
Father Maurice Cahill, brother of Elizabeth, and Father John Woods concelebrated the Eucharist. Father Cahill spoke in recognition of the value of so many years of religious dedication and the personal commitment of each Sister to the living out of her life of Mercy.

Towards the end of a celebratory meal Sister Berice Livermore, Congregation Leader, addressed the Jubilarians, speaking of each one's life and work with affection and appreciation. Each was presented with a special gift.

Pictured above from left to right are: Sisters Bernadette Hoffman, Elizabeth Cahill, Joan Adams, Winifred Carr and Yvonne Wynn.
From:
Sister Margaret Sinclair RSM (Local Communication Facilitator, Singleton) margaret.sinclair@hunterlink.net.au