Archived News Item
Singleton sisters and friends hear about Mercy Works Inc.
March 25, 2009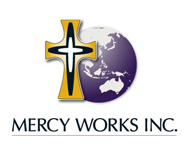 Sister Rosie Carroll RSM, Executive Officer of Mercy Works Inc., was recently invited to give a presentation to Singleton Sisters of Mercy and their friends about Mercy Works Inc., the Institute's agency for local and overseas relief and development. Sister Liz Callen RSM (Singleton) reports.
Recently, Singleton sisters and their friends experienced an inspiring, informative and instructive morning with Sister Rosie Carroll RSM (Executive Officer, Mercy Works Inc.) and Stephanie Thomas (Editor, The Bilum, the magazine of Mercy Works Inc.). Using wonderful photos interspersed with stories and experiences, Rosie and Stephanie told of the partnerships of Mercy Works Inc. with local people in Timor Leste, Pakistan and Papua New Guinea, and of the generosity and support of Australian partners.
Of special interest to us was St Joseph's School in Pakistan, where Sister Ann Thomson RSM (Singleton) has joined the community.

Maps showed clearly where our Mercy sisters are deeply engaged with the people, while the photographic record of Stephanie's recent visit to PNG helped all to 'meet' those sisters and some of their companions.

All were profoundly moved by the poverty and need of the people, and at the same time, intensely proud of, and grateful for, our sisters who show the face of Mercy in places of such need. Catherine McAuley would be proud of them!

We all left enthused and energised by the morning and more determined than ever to support Mercy Works Inc. by prayer and donation, touched by the passion and dedication exhibited in the presentation.
From: Sister Liz Callen RSM (Local Communications Facilitator, Singleton)