Archived News Item
Singleton Mercy Convent awarded Federal Community Heritage Grant
November 23, 2006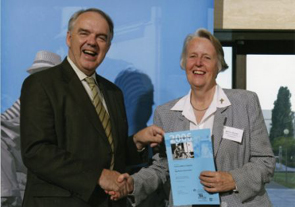 The Singleton Sisters of Mercy are one of 80 groups to this year receive Federal Community Heritage Grants totalling more than $390,000. These grants of up to $10,000 are awarded annually to small heritage organisations around Australia.
The grants for 2006 were announced and awarded by the Federal Minister for the Arts and Sport, Senator the Hon. Rod Kemp, during a ceremony on November 8 at the National Library of Australia, Canberra, where the recipients were attending a three-day training workshop.
Sister Monica Sinclair RSM, Director of the Mercy Convent Sacred Spaces, who represented the sisters in receiving the grant, said that their award of $3,850 was for a Significance Assessment of the Singleton Convent Heritage Library, including the Library of Monsignor Peter Meagher, Parish Priest of Singleton for 31 years (1893-1924), who bequeathed his valuable book collection to the sisters.
"This grant will be of great benefit to us as we seek to preserve and make more widely available our special collection of over 7000 items, reflecting our community and parish life for over a hundred years", Monica said.
In announcing the awards, Senator Kemp said, "The program, part of the government's Strengthening Australian Arts commitment has surpassed expectations on all levels.
"It has been taken up by community groups throughout Australia, ensuring the longevity of nationally significant collections and that the collections stay in the community where they belong.
Jan Fullerton AO, Director-General National Library of Australia, said she, along with the other heads of the partner institutions, was immensely proud of the Community Heritage Grants program. "It demonstrates our truly national commitment to preserving our heritage for the pleasure and research interests of future generations", she said.
About the Grants Program
2006 is the 13th anniversary of the program. In that time, 506 projects throughout Australia have received a total of more than $2 million in funding and extensive training opportunities. The grant money is used for collection assessments, preservations surveys, conservations treatments, preservation training, digitisation, and purchasing quality storage material or environmental monitoring equipment.
The Grants Program is managed by the National Library of Australia and funded by the Australian Government through the Department of Communications, Information Technology and the Arts, the National Archives of Australia, the Australian Film Commission, the National Museum of Australia and the National Library of Australia.
Photo: Minister Rod Kemp presents the award to Sister Monica Sinclair RSM.
To find out more about the Community Heritage Grants program visit www.nla.gov.au/chg The next round will open in March 2007.