Archived News Item
Singleton Conservation Management Plan Presented
November 29, 2011
After many years of preparation, planning, dedication and research, the Conservation Management Plan for the Sisters of Mercy Convent, Singleton, was presented to the Sisters on Saturday 26th November for their acceptance.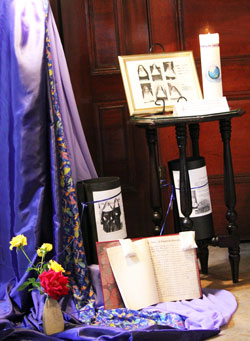 The plan is the culmination of a process initiated fifteen years ago and sustained by the passion and enthusiasm of Sr. Monica Sinclair RSM. The process was formalised by Sr. Faith Jones RSM when she established a Congregation Heritage Committee in 2008.
In writing the plan the committee was guided by the expertise of Mr Ed Clode, Heritage Architect, who presented the plan to the sisters. He showed how the plan captures the spirit and legacy of Mercy over 136 years as it describes in detail how the various buildings meet the criteria for such a plan.
Sr. Monica then demonstrated the use of the data base. As well as the library of over seven thousand books, the data base makes accessible details of nearly four hundred items of movable heritage and over one thousand items of the museum collection. Much of the work was done by four dedicated, meticulous sisters over some years.
Joining the Singleton Congregation for the presentation were Mercy Sisters from Townsville, Gunnedah, Parramatta and North Sydney.
After the presentations the sisters were invited by Sr Faith to show by acclamation their acceptance of the plan which they did with great enthusiasm.
Before leaving, the sisters prayed In Gratitude for our Sacred Space in which they prayed, "…we place our sacred space with trust and hope into the care of the new leaders of the Institute of Sisters of Mercy of Papua New Guinea".
The day culminated in a celebratory lunch with toasts and expressions of gratitude to those who have dedicated so much time and enthusiasm to the undertaking.