Archived News Item
Singleton celebrates life and death of Catherine
December 1, 2009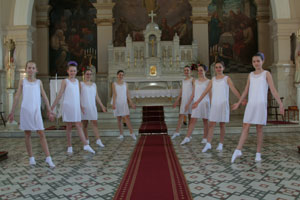 Singleton Sisters of Mercy, their friends and colleagues gathered at the Singleton Convent Chapel (NSW) to celebrate the life of Catherine McAuley on the anniversary of her death, November 11. Mark Spencer, a former student of the Sisters of Mercy, reports on the celebration which included primary and secondary school students and teachers from schools that were established by the Singleton Sisters of Mercy.
Father Bill Goldman CSsR was celebrant at the Mass on November 11 in the beautiful chapel of the Mercy Convent to celebrate the life of Catherine McAuley, the founder of the Sisters of Mercy. The Singleton Mercy Congregation recently celebrated 100 years of the opening of the convent in Singleton so the organising committee decided to hold the celebration this year at their founding site in the Hunter Valley.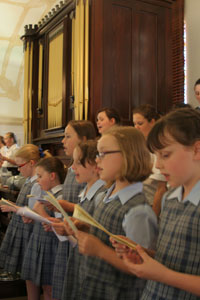 Sister Judith Murphy RSM asked me (an ex-Mercy boy from Lambton) to help organise a choir of students that could enhance this celebration. A call was put out for students and teachers from schools that were founded by the Mercy community in this diocese to participate and the response was very pleasing. Not only did schools reply with students willing to be in the choir but they also sent representatives to participate in the liturgy, enthrone the Word and dance to the Mercy charism song, "The Circle of Mercy".
The Singleton Congregation was thrilled with the excellence of the choir and liturgical dancers. It was truly wonderful to hear the students' voices resounding in the chapel and view the wonder and awe of their faces as they looked around this truly sacred site.
Stage 3 students from St Catherine's College guided by Mr Tony Worner (REC, St Catherine's College Singleton) moved to the tune of "Ancient Words", enthroning the Word. Students from Holy Cross Glendale and St Catherine's Singleton created a tuneful choir accompanied by Mrs Jodie Pietrangelo and conducted by Mrs Kylie Stibbard, who in one rehearsal created a wonderful event.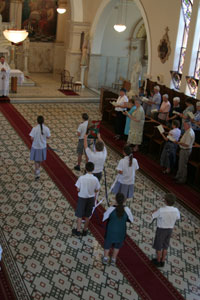 The Year 6 students from St Kevin's Cardiff, assisted by their teacher Mrs Joanne Trotter, choreographed the very beautiful and meaningful liturgical dance which embodied the spirit of Catherine McAuley and the Singleton Mercy Congregation. The movement brought a tear to many an eye. As Sister Faith Jones RSM, Congregation Leader, Singleton, said, "No doubt, the liturgical movement… still touches us beyond what we saw with our eyes!"
"For the Circle of Mercy is Timeless,
It is Spirit of Life itself.
Which roots us in faith.
And lifts us in hope.
And holds us in God's loving care."
The celebration was a great success and a chance for many of the teachers and students to catch up with the Mercy Congregation and say thanks for the wonderful good works they did in schools and are still doing in the diocese.
From: Mark Spencer, Religious Education and Spirituality Officer (Primary), Diocese of Maitland-Newcastle