Archived News Item
Singleton celebrates jubilees
October 6, 2009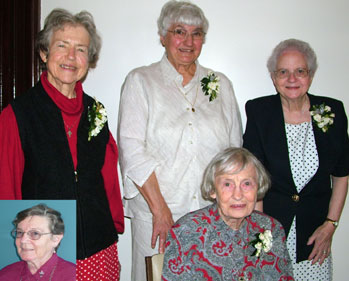 Singleton Sisters of Mercy recently gathered to celebrate the jubilees of five of their sisters: Bridget Carr RSM, Mary Cecily Coaldrake RSM, Mary Fidelis Coorey RSM, Mary Thompson RSM and Ann Thomson RSM. Rita Hassett RSM (Singleton) reports.
On Saturday September 26, sisters of the Singleton Congregation celebrated the 290 years of service in mercy of five jubilarians: Sisters Bridget (Maria Joseph) Carr RSM (platinum), Mary Cecily Coaldrake RSM (diamond), Mary Fidelis Coorey RSM (diamond), Mary Thompson RSM (golden), and Ann Thomson RSM (golden) who is presently in Pakistan.
Having recently celebrated the centenary of the opening of the Singleton convent building, many sisters reflected on the percentage of that time each jubilarian considered it her home.
Sister Faith Jones RSM, Congregation Leader, addressed the sisters in the form of a letter from Catherine McAuley, in which she reflected on the life journey and events of each of the jubilarians.
The amalgam of some highs and lows of their lives, the dedication to service in God's mission and fidelity to vowed life in community allowed 'Catherine' to express understanding, joy and deep appreciation in her daughters.
At the time of renewing of vows during the Eucharistic celebration, the jubilarians were presented with a suitably coloured candle while the assembled sisters sang the traditional motet of the profession ceremony.
The singing, the candles and the strong voices of those re-proclaiming their vowed commitment reminded all present that they have so much for which to be grateful to God, Catherine and all those on whose shoulders they stand.
From: Rita Hassett RSM (Singleton)