Archived News Item
'Sing Once, Pray Twice'
February 25, 2015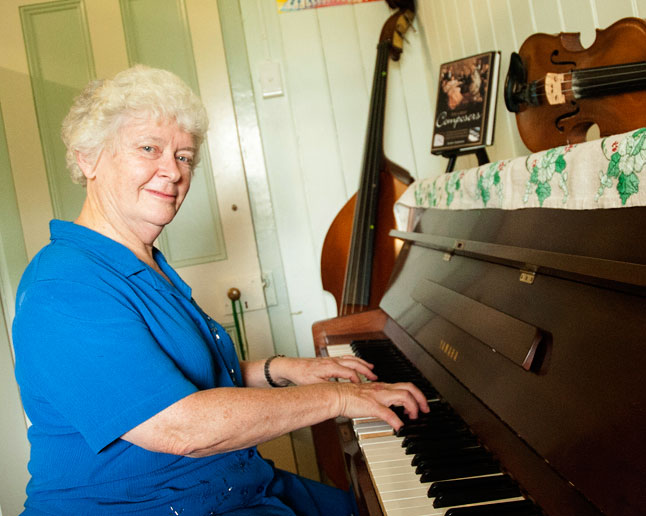 Sister Anne Gallagher has taught music for the past 40 years – the first ten at St. Cecilia's, Grafton and the past 30 within the Maclean community. To say that Anne lives and breathes music and is committed to making it fun for young and old alike would be an understatement. She has a unique ability to bring music into the lives of people around her in such a way that their very lives are affected and they grow as people and within community.
Anne Gallagher rsm – Principal and teacher of the Maclean Music Academy since 1984, received the Order of Australia Medal (OAM) – 'for services to music and the Catholic Church'. "It's humbling (and a little bit embarrassing) in a way to receive the OAM for something you professed to do" she said.
When the Sisters of Mercy came from England to Grafton in 1884, a bishop from Armidale specifically requested for them to teach music and art and Sister Anne said she simply carried on this tradition. Although her parents were farmers, they were quite musical – something Sister Anne said must have come from their Irish background. "In Irish tradition, it's in your blood," she said. Initially Anne was taught music by the sisters at the Maclean convent and she went on to the conservatorium in Newcastle for further training. After teaching at Maclean High for a few years, Anne joined the Sisters of Mercy in 1971.
Although music is a very spiritual thing to Sister Anne ("without music my life would be mundane", if you sing once, you pray twice"), it is the contact with the students that teaches her a lot about God. "You get to know your students pretty well," Sister Anne said," "There is something unique about each one that reflects something of God's nature." The students she taught over the years cover a broad spectrum; from the ones that are training for excellence of performance because they want to go further in music, to disabled children, for whom music is a means of communication- perhaps even their only means.
"My training in music therapy gave me a lot of insight in the effects of music," Sister Anne said, and it's the essence of music, brought back to its most simple function that she uses in programs as Music for Tots and the Music Therapy program that she founded. "We use music to play. It helps coordination, speech development social skills, creativity and concentration. It teaches them to listen."
In training for excellence lies the risk that the pressure of achievement takes away the pleasure of playing and Sister Anne said she tried to prevent that from happening by establishing a relationship with the student- and to pick music that is relevant to him/her. "Of course they don't like all music," she said, "I allow them to have an opinion."
Trained in an era where students had the opportunity to learn several instruments, Sister Anne not only specialised in organ, violin, guitar and flute, she knows the basics of most instruments, including woodwind, brass and strings and teaches and plays "anything you like a bit". "We don't live in an area with highly trained specialists," she said, adding that she aimed for her serious students to "leave here wanting more".
Teaching had changed quite a bit over the years, said Sister Anne, who now on request is even considering Skype lessons- "It's on my bucket list". Back in the days, most music on the list by the Australian Music Examination Board fell in the category 'classic up to the year 1900', whereas nowadays students can present all sorts of music, including jazz and more experimental.
The 66-year-old said she was lucky enough not to have experienced a 'hard' or very strict teaching- which was often the case in those years. "Hopefully that will never be the case anymore," she said adding that if it was up to her, the humane, loving approach would persevere, where playing music pleasure was key. "[And] my wish is when I finish here, someone else will carry it on," she said.
Other achievements of Sister Anne Gallagher as mentioned by the Order of Australia: Music Teacher at St Joseph's Primary School, Maclean and St James' Primary School, Yamba, 'for many years'; Music Teacher – St Cecilia's Academy, Grafton, 1973-1983; Cultural Officer, Institute of Sisters of Mercy of Australia and Papua New Guinea, since 2013; Organist – St Mary's Catholic Church Maclean for 'many years'; Music Director and Conductor, Lower Clarence Community Choir, 'many years'; Music Director and Conductor – Maclean Music Ensemble, 'many years'; Member – Organising Committee, Maclean Eisteddfod, since 2012; Helen Keller Fellowship, Lions District 201n1, 2013; Tony Sheehy Pride in Workmanship Award, Rotary Club of Maclean, 2012; Cultural Citizen of the Year, Clarence Valley Council, 2008; Centenary Medal, 2001.
Indeed a worthy recipient of the Australia Day award.
Messages to: Anne Gallagher rsm

Acknowledgement with thanks:
Interview and photograph: Renate Moerman. Reprinted with permission of 'Clarence Valley Review'.