Archived News Item
Simple action that will help the earth
March 25, 2010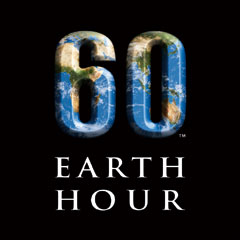 The Institute's Specific Issues Committee, Eco-Justice, reminds readers to join the hundreds of millions of people who will be showing their commitment to the environment this Saturday, March 27, 2010 at 8:30pm.
"By turning the lights off for Earth Hour, cities are reflecting the aspirations of their citizens as a community that has resolved to take action on global warming," says Earth Hour Co-Founder and Executive Director, Andy Ridley.
Although Earth Hour started in Sydney, Australia in 2007, by 2009 the concept truly went global, with Earth Hour triggering people to "switch off" all over the world. Millions of people in over 4,000 towns and municipalities in 88 countries took part.
From: Institute Specific Issues Committee, Eco-Justice (Sisters Claudette Cusack, Mary Dennett, Marie Farrell and Mary White) The Committee warmly invites your response to the article or the issue.
Email: eco.justice@mercy.org.au

Contact: Carmel Heagerty RSM, Institute Justice Co-ordinator
Email: Institute.Justice@mercy.org.au