Archived News Item
Seventy years professed as Sister of Mercy
March 15, 2007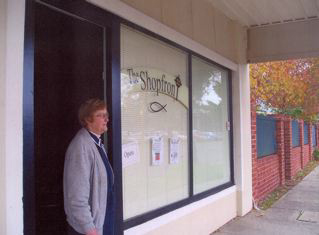 Sister Mary Claude McNamara of Wembley WA recently celebrated 70 years as a professed Sister of Mercy. Despite retiring from active ministry last year, she still lives a very full life. While most would marvel at such a wonderful commitment to Mercy life and mission, Claude says, "Well, really, the 75th is the big one". Sister Joan Smith, Perth Congregation's Local Communications Facilitator, caught up with Claude and invited her to reflect on her religious life thus far.
What have been your areas of ministry over these years?
For forty years I was teaching in the secondary schools – most subjects at one time or another – however, I mainly concentrated on Maths, Physics and Chemistry. For the next 21 years, I did parish work in three different parishes. Then I was assistant to the priest at the City All Saints Chapel for three years. In 2001, I organised the opening and running of the Shop Front [a service] for the needy, the lonely and the hungry (see picture). For some years I was mistress of junior professed.
Summing up, I participated in education, pastoral and social work, a few years with the Silver Chain, as well as running bible study groups and prayer meetings. In 2006, I retired from active work.
Can you identify some significant events or highlights?
One highlight was my brother's ordination. Santa Maria our boarding school was another when it opened in 1937. I have always had friendships with some very holy priests. Also, I have been able to be very involved in the Charismatic Movement. This led to beginning and running several prayer meetings.
What does religious life offer the world today?
My honest opinion is that it needs a revival, a re-founding, using basics of religious life – community, community prayer, simple lifestyle impregnated with Gospel values, enthusiasm, and an evident unity with the Mercy charism.
Why, all those years ago, did you decide to become a religious Sister of Mercy?
Besides an evident call from the Holy Spirit, which I know now was nurtured by a special love of the Mass and my family's strong lived faith, I was very much inspired by a particular sister – in fact many of those sisters who taught me and took a particular interest in me in my school days. They lived what they were, with passion and evident fulfilment and purpose.
Why should reconfiguring happen today?
I am not sure. We are living in a "global village" with major global problems – much too big for isolated communities. I feel we are at the stage when we are sowing seeds, but will they grow and ripen and produce fruit? That depends on the nurturing of the soil and the watering that is needed. Is that the stage we are at?
From: Sister Joan Smith (Local Communications Facilitator, Perth)
Email: joanis@ozemail.com.au