Archived News Item
SEEKING A BETTER WAY FORWARD
October 19, 2015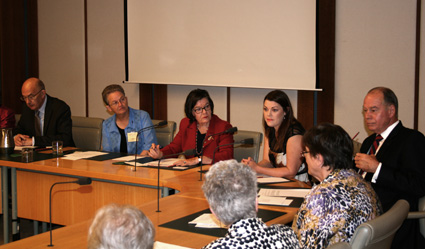 The recent Assembly of Catholic Religious Australia (CRA) voted to take our concerns about refugees and asylum seekers policy and treatment to our Parliamentary leaders in Canberra. In the time since that decision, action on behalf of Refugees, not just in Australia but throughout the world, has become even more imperative.
As a result of this proposal, the Australian Bishops and other Church leaders were invited to join leaders of Religious Institutes to meet with Parliamentarians in Canberra on 15 October, 2015. An outcome of this meeting at Federal Parliament House, organised by Catholic Religious Australia, is the establishment of a cross-party, interfaith taskforce to  look at a better way forward for the treatment of refugees and asylum seekers.
More than fifty Leaders representing diverse faith groups met with the Members and Senators at the meeting which was co-hosted by Anna Burke MP (ALP), Russell Broadbent MP (Liberal), Cathy McGowan MP (Independent) and Senator Sarah Hanson-Young (Australian Greens).  The meeting was moderated by Network Ten's Paul Bongiorno. A key member of the organising team was Sr. Sharon Price rsm.
Speakers at the meeting included Sr Berneice Loch rsm (ISMAPNG Institute Leader and President of Catholic Religious Australia), Sr Anne Lane PBVM (Catholic Religious Australia) and Rabbi Alon Meltzer (National Jewish Memorial Centre).
Sr Anne Lane PBVM said we cannot as a nation let the current cruel policies continue. "There have been many reputable reports which show that immigration detention causes significant psychological harm, particularly to children.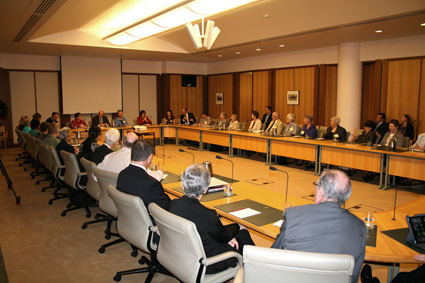 "It is never right to use people as a means to an end.  It is morally wrong to punish one group of human beings by locking them up on off-shore islands in order to deter other people from coming to Australia. Our nation's response is in stark contrast to the way the people of Europe have rescued and welcomed tens of thousands who arrived by boat on their shores," Sr Lane said.
The meeting determined that the new taskforce would be made up of five parliamentarians and five faith leaders, who would report back to the gathered group within one month. It is hoped the task force can build on the recent goodwill arising from the 12,000 Syrian refugee announcement and develop new policies for the thousands of other refugees, including ending off-shore and mandatory detention, removing children from detention and abolishing temporary protection visas.
All present were heartened by the meeting and the outcome. It is an endorsement by those members and senators who attended, of the need to once again value the dignity of every human person.
The gathering believes it is also reflecting a growing change in attitude in the community towards the current policies, with the Australian public now expecting a more compassionate stance from our political leaders.
As the parliamentary membership of the taskforce is cross party, it is hoped it will be the catalyst for encouraging all Members and Senators to rethink the way in which we treat all people seeking to come to our country.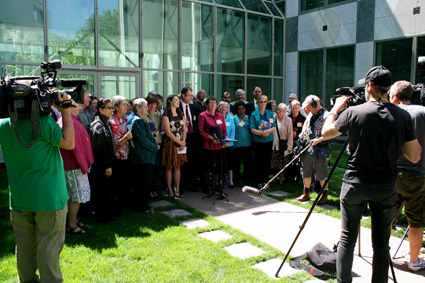 Following the meeting the majority of the fifty faith leaders joined with the co-hosting Members and Senators for a media conference, which included the singing of the second verse of the national anthem:
'For those who've come across the seas
We've boundless plains to share;
With courage let us all combine
To Advance Australia Fair'.
Messages to: John Rochester – Communications Manager, ISMAPNG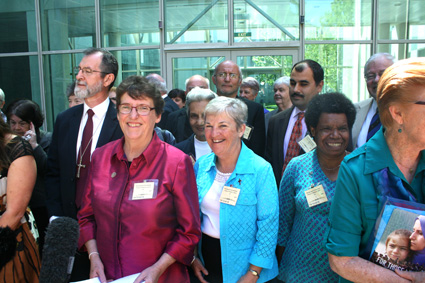 Photos:
Top: L-R Paul Bongiorno, Berneice Loch rsm, Cathy McGowan MP, Senator Sarah Hanson-Young, Russell Broadbent MP.
Middle: Large group and Media Conference
Bottom: L-R: Anne Lane PBVM, Sally Bradley rsm, Theresia Tina rsm, Berneice Loch rsm, Anna Burke MP, Senator Sarah Hanson-Young