Archived News Item
School open to rich and refugee alike
May 25, 2006
Tucked away in a quiet corner of Adelaide's CBD is a small Catholic girls' school with an open-door policy welcoming refugee students.
For decades, St Aloysius College has laid out the welcome mat for the hundreds of international students, be they from wealthy Asian families willing to send their children to Australia for an education or the children of temporary protection visa holders applying to stay permanently in this country.
"There has always been a tradition of taking new arrivals and taking refugees," said principal Judith Redden. "I was (a student) here in the late 1950s and at that stage the refugees were from Europe.
"When I started as principal there were boatloads of people from Vietnam and they knew they could come here… it was no surprise that when there were Afghan refugees they found their way to the door of St Aloysius."
As well as welcoming refugees, the school began accepting international students in 1990, with an intake of 11 girls. There are currently 105 international students from 65 countries among the school's population of 950.
In February, there were 1967 international high school students studying in South Australia. The state has a 7.7 per cent market share.
Sister Redden said the international market began to significantly open in 1997, when Chinese students started to travel to study.
"Our first Chinese student started that year and is now studying at Adelaide University and working part-time at the school in IT," she said.
That first Chinese student, Joy Lee, is studying the first year of her masters in electronic engineering.
"I've done pretty well here and I had a scholarship with uni so I'd probably find a job here pretty easily," Ms Lee said. "I definitely miss (my family) but I want to have a good career here and you have to make sacrifices."
While studying at the college, international students live in homestay accommodation organised through the school's network of 350 families.
With a passion for helping educate new arrivals, the school also opened the SA Adelaide Language Centre in 1994, opposite its city campus.
The language centre is used to prepare international students for schooling in Australia, newly arrived adults wanting to learn English and international doctors or other professionals heading for rural posts.
Up to 130 people attend the language centre at any one time. If mothers with young children attend the centre, their children are accepted as temporary students across the road.
"This all contributes to the running of SAC to fund our special projects, and our most special project is assisting refugee children," Sister Redden said.
The revenue from the language centre goes towards providing full scholarships for refugee students, including books, uniforms and tuition fees.
Among the refugees are 29 Afghan girls and 13 girls from African countries.
"When students were on TPVs they had absolutely no resources, so we gave them scholarships… then we lobbied the federal Government for permanent visas," Sister Redden said. "Only two remain on TPVs. They've been to hell and back and we continue to put letters to (Immigration Minister) Amanda Vanstone and the federal Government."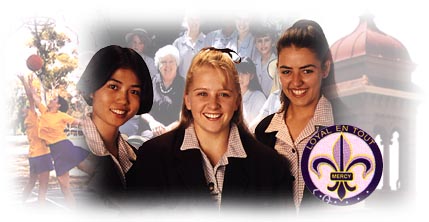 *This article was written by Verity Edwards and published in the May 6-7 edition of The Weekend Australian newspaper. It is reproduced in Mercy Matters with permission from News Limited.