Archived News Item
Scarf a symbol of unity for Mercy WYD pilgrims
August 7, 2008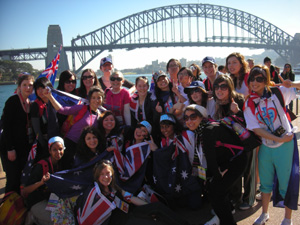 For Ann-Marie Herd, Co-ordinator of the recent Mercy World Youth Day Conference, "the best way to give people insight into what happened can be summed up by a scarf." Ann-Marie says, "having a scarf for WYD was a good idea for two reasons: we would feed families in Peru and we would keep people warm during a cold Sydney winter! Well we achieved those aims, but we achieved so much more…The scarf became the symbol of unity."
As the Mercy World Youth Day Co-ordinator I can tell you that a conference for 950 Mercy-minded people was held at Monte Sant' Angelo Mercy College North Sydney. I can tell you that the five Sydney Mercy Schools – Catherine McAuley High School Westmead, Mercy Catholic College Westmead, Our Lady of Mercy College Burraneer, Our Lady of Mercy College Parramatta and Monte Sant' Angelo College North Sydney worked collaboratively to make this conference possible. I can also tell you that the day consisted of wonderful keynote speakers expressing Mercy in action, that workshops were held allowing people to express what it means to be Mercy and that our young people were called to act in their communities in the spirit of Mercy.
In other words it is easy to tell you what we did but it's a lot harder to tell you what happened! Possibly the best way to give people insight into what happened can be summed up by a scarf.
Early on in the planning stages, Sister Carmel McDonough from Monte Sant' Angelo mentioned that sisters were working in Peru, assisting some of the local women to earn an income from the production of numerous items for sale, including scarves. Contact was made with Clare Loudon and Hayley Allen which started a process that none of us ever thought would become what it has.
We thought that having a scarf for WYD was a good idea for two reasons: we would feed families in Peru, and we would keep people warm during a cold Sydney winter! Well we achieved those aims, but we achieved so much more than I could have ever envisioned.
The scarf became the symbol of unity. People readily recognised each other during WYD and would talk to each other because they had the scarf on and they knew they were Mercy people. It did not matter if they had not met each other on the day. It was best summed up by one of the students from OLMC Parramatta: "If you had the scarf you were Mercy; you were an 'old friend' and you stood for something".
A Josephite Sister from Melbourne, working and staying at Mary MacKillop Place, would often run into the Mercies staying at Monte, and try as she might, she could not get anyone to swap their scarf with her; they would swap other things but not the scarf!
I have reflected on this in the last couple of days as other such stories filter in, and whilst there are lots of ways to think about this, I have concluded the following. We started something on July 14. Mercy people want to be connected. They want to be involved and they want to share what they believe with others.
The scarf is multi-coloured and at an aesthetic level it thus goes with everything one could think to wear! But I now look at it and see that maybe the colours could also be taken to mean that we Mercies are willing to embrace all no matter what race, creed and colour!
I would like to thank the Sisters of Mercy and the Executive Members from the five Sydney schools for their foresight and willingness to embrace the opportunity WYD presented to bring our young people together. I also thank them for affording me the opportunity to work with people from the other Sydney schools and all the other schools and communities throughout Australia and the world.
Thanks to all who have assisted me in the development of this conference, but most of all, thank you to all our young people for their enthusiasm and passion to make a difference.
From: Ann-Marie Herd, Mercy WYD Co-ordinator
For those who participated in Mercy World Youth Day activities and for those who were unable to, an online forum has been set up. Follow this link.