Archived News Item
Saying "sorry" to the Stolen Generations
February 21, 2008
As Prime Minister Kevin Rudd prepared to make a Statement of Apology to the Stolen Generations, people across the country tuned in to the broadcast in workplaces, homes, schools and public spaces. Read the Institute's statement which coincided with this momentous occasion, as well as the reflections of Mercy Sisters who were present in Canberra and Redfern.
READ: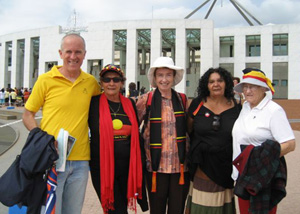 The Institute Justice Specific Issues Committee on Indigenous Concerns invited sisters who were in Canberra to share their reflections on this momentous occasion. We also received a reflection from a sister who was present at The Block in Redfern, Sydney. Readers are encouraged to take time and ponder the words and emotions of Sisters Marea Roberts RSM, Daphne McKeogh RSM and Leonie Martin RSM. The committee would be delighted to receive your reflections on this event. Email us.
Sister Marea Roberts RSM (North Sydney)
Being present on the lawn outside Parliament House as Kevin Rudd delivered the apology to the Stolen Generations was an experience that I will never forget but will recall to mind often. It was a fitting, elegant Apology that filled me with gratitude, admiration and pride and I was extremely thankful to be present with so many other Mercies. It is difficult to describe, adequately, what took place and how I felt – emotion was so high and so contagious. One could not help but be caught up in the palpable anticipation that rippled through the gathered crowd beforehand – someone described the atmosphere as 'electric' and it was just that. Indigenous and non-Indigenous were as one in their reaction to the apology and to describe the subsequent emotion as total euphoria is no exaggeration – any words chosen would understate the depth of people's feelings.
It was wonderful to be there and express our own exhilaration with our many Indigenous friends. For me, personally, it was a 'Simeon' moment – the long waiting at last was over, and if I felt that way what must members of the Stolen Generations have felt. It was now not too difficult to believe that truth, honour and justice for Indigenous Australians were back on our national agenda and that reconciliation could become a reality. To paraphrase Kevin Rudd – a new chapter in Australia's history had opened.
Our surprise invitation to attend Patrick Dodson's address to the Canberra Press Club was the perfect ending to our day. It was quite superb.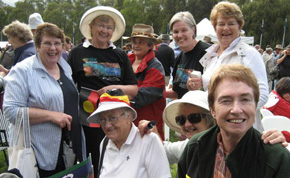 Sister Daphne McKeough RSM (Wilcannia-Forbes)
The great season of the "breaking of the dam in the river of reconciliation" began for me on the morning of Tuesday February 12 when, with Marea Roberts from North Sydney, I drove from Sydney to Canberra for the rally, "Convergence on Canberra", arranged before the government's plans for an apology to the Stolen Generation had been made public. The rally was a call by the Aboriginal Rights Coalition for Aboriginal people and supporters to "Stand Up for Aboriginal Rights on the first day of the New Parliament".
It was raining fiercely as we reached Canberra, but by the time we got to the Aboriginal Tent Embassy for the beginning of the rally the rain had cleared, and it stayed away till the rally was over.
Pat Adams from Singleton, and Shirley Garland from Canberra joined Marea and I as the throng gathered at the Aboriginal Tent Embassy in front of old Parliament House. Many of the Aboriginal visitors to Canberra had camped at the site. Isabell Coe, the Tent Embassy custodian, said in opening the rally, "We've been here [at the Tent Embassy] for 27 years. We've been waiting for you all to come." After a 'Welcome to Country' ritual, all were cleansed in the smoke of the fire that burns at the Tent Embassy site. Then, carrying the Mercy banner, we joined in the march from Old Parliament House to the grounds on the new Parliament.
At the time we were marching, for the first time in its history, the Australian Parliament was being opened with a traditional welcome to county by a local Aboriginal Elder. Whoever thought we would see the day when this ritual, so central to the culture of the people of this land, would be accepted and entered into by the national parliament.
In his poem "The Cure of Troy" the Irish poet Seamus Heaney has the lines:
"History says, don't hope
on this side of the grave.
But then, once in a lifetime
the longed for tidal wave
of justice can rise up,
and hope and history rhyme…"
We listened that afternoon to Aboriginal people speaking of their lives; people from Alice Springs, young ones and elders, talking about their people speaking of their determination to band together for better times. And we glimpsed the underpinning pain and trauma that would be the backdrop of the morrow's gathering as we watched two brothers who had searched for each other but had never met finally find one another and embrace for the first time.
And so to Wednesday February 13, 2008. For us in Canberra, day dawned under heavy skies, with the weather threatening. But again the Spirit and the ancestors must have been with us as the cloud lifted and the sun broke through. We Mercies (Marea Roberts, Pat Adams, Shirley Garland, Liz Rothe, Helen Kearins, as well as Marie Duffy and Angela Jordan) found a place near the front of the huge throng watching the screens on the laws outside Parliament House.
As the telecast opened and the Prime Minister, began to speak the crowd settled, and with the import of his words unfolding, the listening deepened. With the full impact of his words sinking in there were murmurs of appreciation. Some people shed quiet tears. Some hugged. At the conclusion the throng leapt to their feet in joy, waving flags and cheering. It seemed we had shared in a Transforming Moment, when "hope and history rhyme".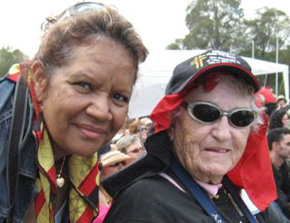 After the speeches, we mingled in the crowd meeting Aboriginal friends who have shared our Mercy journey in recent times:- including Louise Campbell and her sisters and brother; Elsie Heiss; Kay Mundine; Lisa Buxton; Mavis Davis; Brenda and Barbara; Ali Goulding. They told us of powerful emotion, and a sense of burdens lifted at this validation of their experience. We met the busload of Mercy school students from Monte Sant' Angelo and their teachers, who were so excited to have been there, after a very early trip from Sydney, for an occasion to tell their grandchildren about in times to come.
An added highlight for us was a last minute chance to attend the National Press Club luncheon, where Patrick Dodson was the guest speaker.
As we drove home on Wednesday evening we had a sense of having travelled a long journey in those two days.
We had been through stormy weather.
We had been cleansed and welcomed to country.
We heard our national leader acknowledge and apologise for actions that had caused much grief and pain for Aboriginal people.
We shared the elation, the spirit of hope.
And as we listen in our hearts the call for further journeys grows within us.
May we all find ways to build on the graces of Wednesday February 13, 2008!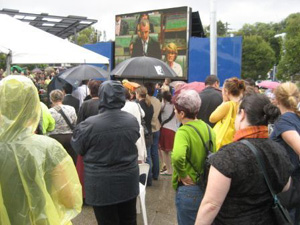 Sister Leonie Martin RSM (Parramatta)
What a blessed day in the history and collective soul of our nation. "SORRY DAY"… the true and ultimate one.
This morning I was present at "The Block", Redfern in Sydney, to join the local community on this historic and, of the heart, celebration. It was cold and rainy, but not a stir of movement or crack in the resolve, as we all, black and white, stood together to hear the Prime Minister proclaim his words of wisdom, truth and compassion, on behalf of all of us.
As one of my dear Aboriginal friends, Emma, a wise 17 year old with a very sad background, said to me. "Wasn't Kevin good to give the apology"!
I felt her deep essence and spirit in that moment. I truly felt on sacred ground. Alone and self-motivated, she brought herself to be present with the community on this important day.
I was so proud of her and loved her even more. I have known her as one of my small group of Redfern children, since she was three years old.
As they always say to me: "Have you got your car?" – never missing a chance for a ride. And of course I have the car, and in conversation while telling her what a blessing it is to have it, I prepare to give her a lift home.
Emma mentions to me that there is just no food at home, where she lives with her mother and sister, who are both drug addicted.
I offer to take her to Coles to buy a few things so as there 'will be something, rather than nothing' on their table tonight.
What a humbling experience – just the necessities does she choose. I notice her step quicken and her energy rise as she chooses a few essentials and occasionally defers to me in making a choice of goods. As we rounded a corner and with a twinkle in my eye, I 'snatched' a small bag of coloured Easter eggs as they hung strategically to the side of us. Her eyes opened wide, no words, but a look of delight expressing that she was glad and grateful for this little extra luxury.
This tiny story may sound as a 'nothing' on such a momentous day as today, however to Emma and me, it surely was a special 'something'; something real and another wee step forward in our journey as we move together with all Australians from the first to the most recent.
Today was a joyous and sacred day for me, especially when, with words uttered in heartfelt blessing as I deposited her home, Emma farewells me by saying: "Doesn't it make you smile when you meet your old friend again?"
My reply: "Oh yes Emma, there is joy in my heart."
From: Specific Issues Committee, Indigenous Concerns (Anne McGuire, Sisters Rose Glennen, Mary Quinn and Moira Truelson). The Committee warmly invites your response to the article or the issue.
Email: indigenous.concerns@mercy.org.au
Contact: Carmel Heagerty RSM, Institute Justice Co-ordinator
Email: Institute.Justice@mercy.org.au