Archived News Item
A Fond Farewell And A Warm Welcome At Santa Casa
March 29, 2017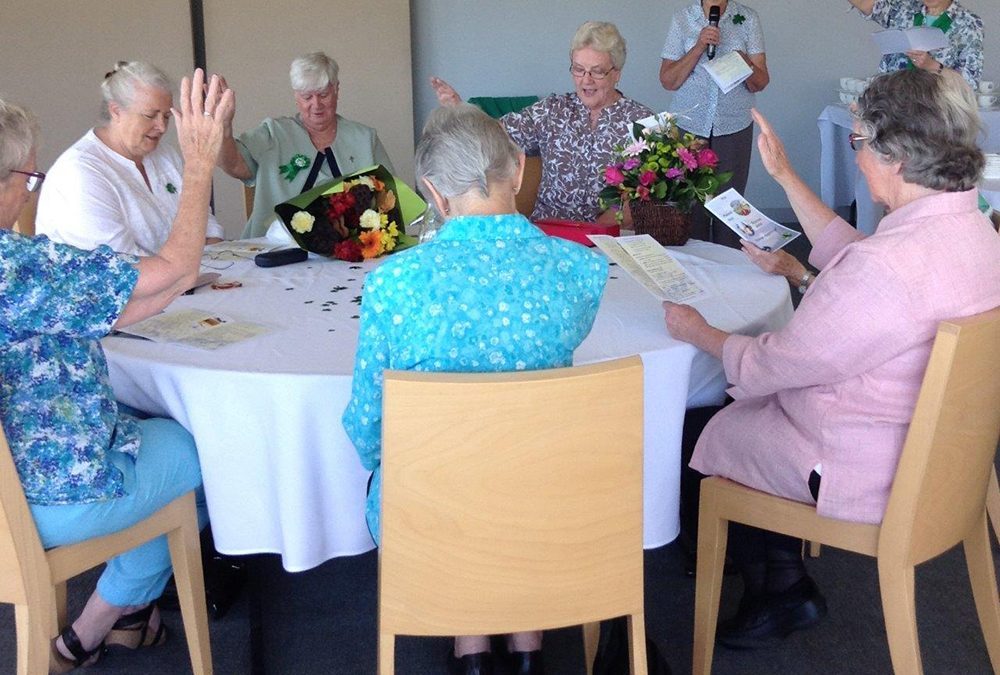 Santa Casa Queenscliff has acknowledged the wonderful work of retreat centre Manager Nola Morrissy rsm and welcomed Lizzie Finnerty rsm as the new manager at a celebration earlier this month.
Over 40 people were in attendance at the morning's celebrations at Celies Restaurant at Sacred Heart College on Friday March 17, to give thanks to Nola for her long service and ministry at the retreat centre and to bless Lizzie on her new journey at Santa Casa. Madeline Duckett rsm prepared a prayer which included both themes including a moving blessing of both sisters (pictured above).
Nola has given her whole self to Santa Case Retreat Centre for the last 12 years and certainly has gone out on a high. The 10 year plan to create and build the retreat centre has exceeded expectation, with Nola staying an additional two years at the thriving centre that is now booked out 6 months or more in advance at any given time.
"When I started this retreat 12-years-ago, I started it with one question in my mind; what things do I like to see in a retreat?" said Nola. "Working from this starting point the retreat grew with passion and somehow I have brought my vision to life".
"When the centre started we had a few retreats here and there and the real work was in sourcing the facilitators and tending to the physical aspects of the property. Now, only 12 years later, demand has grown to a point where other church groups are booking out the space for their own silent retreats."
Santa Casa has happily become an ecumenical facility hosting guests from other churches including Anglican, Baptist and the Church of Christ. The space offers local, interstate and international travellers a space to reflect, pray and unwind. Return guests have commented that Santa Casa 'is like coming home'.
When asked about her favourite part of her time at Santa Casa, Nola commented that it was to see how the retreat centre enhances each visitor's spiritual journey. "I once had a young lady at the retreat who said to me "Sister, I don't go to church and I question my beliefs" I responded with "you are on your own journey with your god. Stop still; take time to reflect; be silent; and in the silence you will find the relationship you have with your god."
New Santa Casa Retreat Centre Manager,  Lizzie Finnerty rsm brings with her a rich history as a humanitarian in war torn countries and refugee sites.
Lizzie's past ministries include over 10 years experience as a nurse and midwife in the Philippines, Ethiopia, Angola and Christmas Island. Her service in these places has been a world apart from the comforts of the western world we live in. Deliveries and births were made without medication, without electricity and without the use of ultrasound. "You learned to really pray! You basically only had your skill, your hands, and your prayers" said Lizzie.
Lizzie's time in Ethiopia and Angola introduced her to the realities of war and she speaks fervently about her honour in being able to deliver the charism of Catherine McAuley in her assistance in these areas.
These rich experiences are sure to prove valuable in her new role. "I am acutely aware of the vulnerability of people in our world and how we treat them and I think that awareness lends itself well to my role at Santa Casa," said Lizzie.
"I love hospitality and I love working with people and what more of a beautiful setting to do it in then Santa Casa. Each day I look out of the window down to the water and say thank you to Jesus for letting me stay in this little slice of heaven."
29 March 2017