Archived News Item
Sacred Spaces Helps Drought Affected Farmers
August 29, 2018
Drought has now been declared across 100% of NSW and in Singleton and the Hunter Valley the impact is evident everywhere you look. People and businesses are struggling and the stress on individuals and families is ever-increasing.
To provide a little assistance to farmers, Sacred Spaces Singleton is hosting a fundraising event, called a "Roaming Concert".  Local music teachers have joined forces with Sacred Spaces to hold a concert where every nook and cranny will be filled with musical performances at the Singleton Convent on Sunday, 21 October 2018 from 10am.  The idea is for the audience to roam throughout the Convent and gardens listening to different performances in different locations at the same time.
All money raised will be donated to the "Buy a Bale" fund (www.buyabale.com.au).  This rural aid program donates hay, diesel, water or hampers to farmers that are affected by this drought.
Value of donations:
Small bale of hay = $20
Large bale of hay = $100
Litre of diesel for cartage = $1.70
11,500 litres of water = $250
Hampers = $50
Sacred Spaces is happily accepting cash donations or donations of non-perishable food items, toiletries, or other essential items.  Their goal to raise $9,500, which will allow them to buy a semi-trailer load of hay and transport it to an affected area.  Any money raised above that figure will be used to purchase water for farmers.
"The more people to contribute to our fundraiser means that we can pool our resources and reach our target goal of a semi-trailer load of hay!" says Cynthia Mulholland, Events and Marketing Co-ordinator at Sacred Spaces.
If you would like to assist on the day, please get in touch with Cynthia at cynthia@sacredspaces.org.au or 0439 013 541.  If you would like to hold your own fundraising event, Sacred Spaces would be more than happy to combine our financial efforts to ensure great support for our farmers.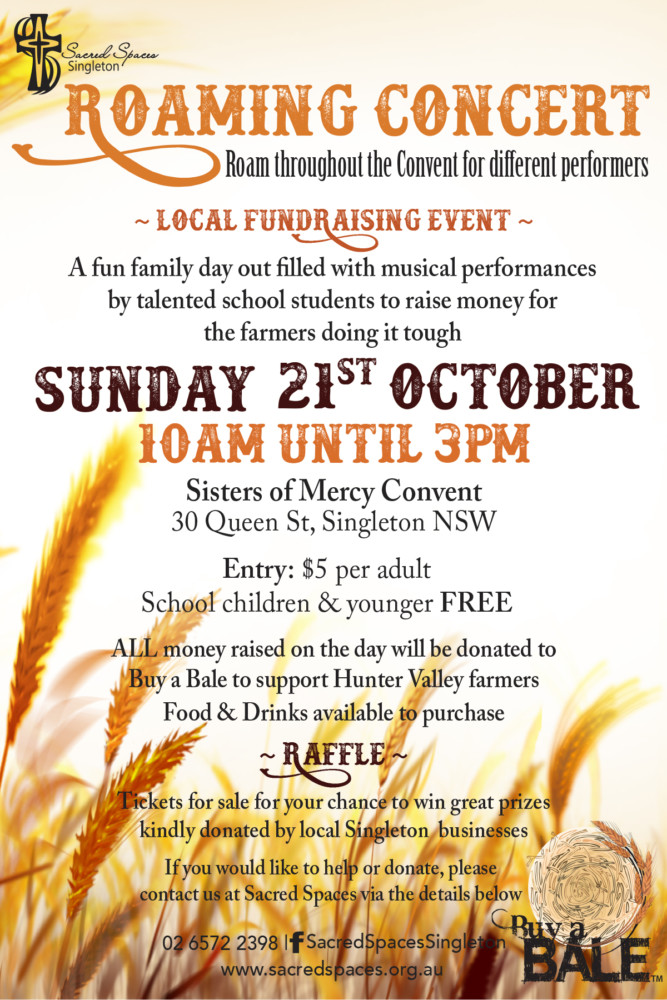 Messages to: Cynthia Mulholland, Sacred Spaces Singleton