Archived News Item
SACRED SPACES FOR ALL
August 7, 2015
In 1995 the Sisters of Mercy Singleton commenced 'Sacred Spaces' to open their extensive buildings and spacious gardens for the use and enjoyment of the wider community for activities embracing the Mercy values of spirituality, service, hospitality and culture. This has become a special place for me.
If you are fortunate in life, you will come across a space so peaceful, so beautiful, so spiritual, words cannot describe. Then you meet a woman, equally beautiful and spiritual, and again, one stumbles to find appropriate words to give her justice. Together the space and the woman share a journey of faith, one that has had to adapt with the times to maintain its relevance. This is a story of change.
It was supposed to be a 10-minute photo shoot. That's what I told my husband. For the first time, Singleton's Sisters of Mercy would open their chapel to the community. Before then, it was a space only the sisters and the occasional priest entered. Now it was my time to take a glimpse. A quick photo for the local newspaper and I was out of there, or so I thought.
Four hours later with tears streaming down my face, I sat quietly in a church stall in the chapel. I listened to the stories of how the sisters would sit silently in prayer, the stall itself restricting head movement so that they could gaze upon nothing other than what was in front of them. I don't know why I was so moved or why I was crying. It was a beautiful experience that struck at the core of my being.
Some years later I returned to the convent again for a quick photograph. This time I had my 10-year-old son in tow. The angry young boy and his little brother had taken a game of wrestling in the lounge room too far and I wasn't prepared to leave them under the one roof, despite their father's presence and despite the fact I was only going to be a few minutes. So Big Boy reluctantly accompanied his mother for the photo and the terms were non-negotiable. Big Boy had to keep his mouth zipped, sit on a chair, watch and wait.
The photo was of a capella group rehearsing for a performance. This small group of women emitted the most angelic of sounds. It was mesmerising. On leaving, Big Boy seemed very subdued. I thought he must have been reflecting on his physical relationship with his little brother and the revenge he was planning when he re-entered our lounge so I said nothing. The sun was setting, a little breeze tickled the leaves of the huge trees in the garden as our shoes crunched on the pebbles on the pathway leading towards the cast iron gate.
"What is this place?" Big Boy quietly asked and I began to give him a history lesson about the Sisters of Mercy and how they came to settle in Singleton.
"Well, whatever it is Mum, it's giving me goosebumps," he replied as he gazed around at what is now widely known as Sacred Spaces. He too could not explain what he was feeling.
Our experiences are not unique. Sister Monica Sinclair has seen people brought to tears at the convent many times and every time it validates a decision she made back in the 1990s, a decision some would describe as brave, perhaps controversial, but certainly innovative and very much necessary.
She was Mother Superior for the Sisters of Mercy in the Hunter Valley from 1992 to 1996 and it was during this time she decided to open up the Singleton Convent to the community. The buildings are spectacular but their use is radically changing. The Convent is home to but a few Sisters of Mercy now, not like in the past when numbers were overflowing. The buildings need a new use but one that reflects the philosophies of the Sisters of Mercy, the philosophies of spirituality, service, hospitality and culture. And then there is the question no one wants to ask – what happens when it is a home no more? The buildings and grounds are immaculately kept but the age of the buildings are such that if they are not consistently used and cleaned, their dilapidation would be rapid. They need a long-term plan and thankfully, Sister Monica was brave enough to suggest one. Since the doors have been opened, the sacred spirituality of the space is having an effect on all who step inside.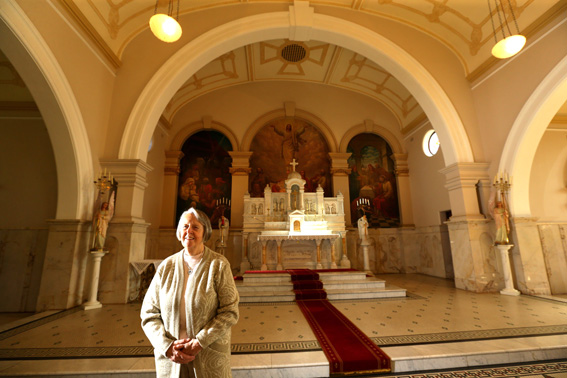 "I watched one man take a step into the chapel and he wept, he couldn't believe he had lived in Singleton all his life and didn't know a building of such beauty existed in his own backyard, he was gobsmacked," Sister Monica said. "I guess having lived within these walls for such a very long time, I didn't realise or perhaps had forgotten the impact this place has on others, the decision to share this experience with those outside the convent has been a most satisfying project, it has been the right decision," she said.
It is a decision she would never have imagined she would make when she first entered the Order of the Sisters of Mercy. With four generations of nuns in her family, Sister Monica was just 17 when she decided to follow her spiritual path. She said it seemed inevitable. "My sister and I had been student boarders at St Catherine's College when we both announced we intended to become Sisters of Mercy. Dad was proud, I mean every father wants his daughters to be nuns, but Mum, she missed us," Sister Monica said. "We were finally coming back home after boarding school and now we were telling mum we were becoming nuns, I don't think we considered how she might have felt, I know she missed us."
Their first six months was spent as postulants and Sister Monica and the other young nuns would help at the nearby infant and primary school and spend time in the convent garden. The following year was completely devoted to spiritual study. Sister Monica says she was one of the lucky ones. "We had a young woman novice mistress who was good to us, she was caring and more like a friend, not like some of the stories you read, and I was there with my sister," she said.
As a first year novice, Sister Monica saw her parents once every six months. The second year allowed visits of once every two months. Sadly, her mother died a week before the pair would share time together that second year and Sister Monica continues to reflect on this period with great sadness. "I think my mother missed us, I think she wished we had spent more time with her but as a young girl, I didn't consider that, as a young girl I don't think I realised the gravity of the decision I was making," Sister Monica said.
She remembers the day she dressed as a bride and gave her life to God and her Catholic faith. She remembers having her hair cut short before a veil was placed upon her head. At first it was scissors that removed her young locks but then it was a razor, her head was shaved throughout most of her 20s, but she was happy. "Looking back I think that was quite a cruel thing to do to a young woman; it defeminised you. It is not something they would do today; it was a violation but at the time, I just accepted it," Sister Monica said. "I had come to the sisters straight from school, I hadn't known anything else. If I had been a woman who had knocked about a bit or had a career I may have questioned it but I just took it all in and accepted it."
Her teaching career began at St Catherine's College. She taught science and maths and then went on to St Anne's at Adamstown, a time when the image of the Sisters was starting to modify. "Our habits were getting a little shorter, very gradually, but it was happening and I started to grow my hair, they were subtle little changes," she said. Then came an opportunity of a lifetime. Sister Monica was invited to spend two years studying at pastoral institutions in the Philippines and the US. Suddenly she was thrown in a classroom with some 81 other men and women from Manila, Bangladesh, South East Asia, and the Pacific. "It was a wonderful time, I heard the most wonderful of lectures and everyone wanted to show off their cultures, it really had a profound impact on me," she said. "I was 40 years of age, I had purchased my first pair of slacks, I had let my hair grow into a bob and I came back to Australia a woman, I'd finally grown up and I thank the Order for giving me that opportunity."
She took a job at the University Chaplaincy at the University of NSW and loved it. She spent time on student camps and study trips and when she finally returned to the convent after being elected as Mother Superior, she saw her sacred space with new eyes.
'Sacred Spaces' was the name she gave to the new era for the convent, an era that continues the philosophy of the Mercy Sisters but also embraces musical performances, exhibitions, historic tours and more than the occasional wedding in the chapel. "For so long we kept this space to ourselves but now it is time for others to appreciate and enjoy it," Sr Monica said.
There are some who might suggest Monica Sinclair was robbed of a carefree youth and the opportunity to be a wife and mother but that is certainly not Sister Monica's take on life. "I look back at everything I have experienced and everything I have done, I am confident that the convent has a new future and I'm happy. I don't feel like I have missed out on anything at all, in fact it's been rather spectacular and I feel very fortunate."
Article by Di Sneddon. Reproduced with permission from Newcastle Herald.
Photo: Jonathan Carroll. Newcastle Herald.
Full article: www.theherald.com.au/story/3186934/sacred-spaces-for-all/?cs=316
Click HERE for more information about 'Sacred Spaces'
Messages to: Monica Sinclair rsm