Archived News Item
"Sacred Spaces" alive
October 24, 2007
"Sacred Spaces", a community heritage project of the Singleton Sisters of Mercy in New South Wales, hosted several successful, enjoyable and informative programmes in the past month. Sister Margaret Sinclair (Local Communications Facilitator, Singleton) reports on the activities.
Several successful, enjoyable and informative programmes were hosted in Singleton (NSW) by "Sacred Spaces" in the past month. At the end of September the staff of Mercy Services, based in Newcastle, spent their Staff Development Day there learning more about the spirit of the Sisters of Mercy, the heritage of the Singleton Mercies and the life and spirit of Catherine McAuley.
The week-end of October 6-7 was filled with linen, lace and enthusiastic embroiderers and their friends. The exhibition, "Linen and Lace" was the inspiration of Sister Mary Kleinschafer RSM (pictured) and brought together the treasures of the Sisters of St Joseph Lochinvar and the Sisters of Mercy Singleton with the work of several Embroiderers Guilds of the Hunter Valley.
Of particular interest were the tatted albs and surplices done by the four Casey Sisters, all now deceased, Sisters Constance, Mary de Pazzi, Mary Margaret and Mary Angela, themselves Hunter Valley 'girls'. Sister Connie's pattern book containing the pattern for one of the albs begun in 1933 was on display. It was written out by hand and had the accompanying sketches for the motifs.
Another highlight of the weekend was Lacemakers' Lane, where three of the visitors set up their materials and demonstrated the methods of producing various types of lace.
The gardens were a picture with the roses in full bloom. Their beauty was enhanced at lunch time by the presence of so many women, some of whom had come long distances to share the experience.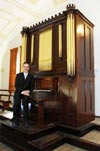 "A musical treasure"… That was the way organist, Brendon Lukin (pictured in front of the organ), described the Singleton chapel organ, one of the oldest in NSW, after he had seen and played it for the first time. It was the name given to the CD that was launched on October 14 in the Singleton chapel by the Honorable George Souris MP.
At the request of Sister Monica Sinclair, Brendon was very happy to record a CD. He chose music that would demonstrate the characteristics of the organ as did the demonstration recital by Brendon at the launch.
After the official launch the audience was treated to "A Feast of Baroque Music for Organ and Violin" from Daniel and Peta Dries.
We are grateful for the enthusiasm, creativity and hard work of so many people that are keeping alive a long and rich heritage.
More about Sacred Spaces can be found at www.sacredspaces.org.au
From: Sister Margaret Sinclair RSM (Local Communications Facilitator, Singleton)