Archived News Item
SACRED EARTH, SACRED TRUST
May 19, 2016
June 12 this year marks six months since the Paris Climate Agreement and links with the celebration of International Environment Day (June 5) and the first anniversary of the publication of Pope Francis' Encyclical "Laudato Si'" (June 18).
Prior to the Paris Agreement more than 5000 people, 270 high-level faith leaders and over 170 religious groups, which included ISMAPNG, handed over a petition to the UN General Assembly President as part of the Interfaith Climate Change Statement.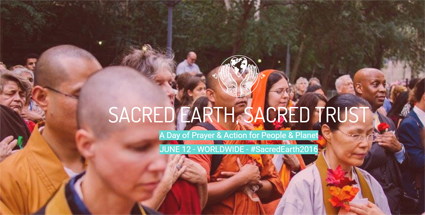 A record 175 countries have already signed the Paris Climate Agreement, but in spite of this the world is still set for temperature rises well above the critical 1.5 ° limit that governments agreed to. Scientists, activists and vulnerable communities are fighting for this with the cry of '1.5 to Stay Alive'. Continuing support is needed to show the world of the need for words to be accompanied by action and an unwavering commitment to care for our sacred earth.
The participation of each and every one at this point is key, not only to pressure governments to comply with the Paris Agreement but to increase their commitments and the chances of survival for human beings and the many other species that are God's creation. Across the globe people must unite in prayer, invite others to critically reflect on the causes of this crisis and encourage each other by sharing ideas, and initiatives aimed at a paradigm shift for the world.
Some communities and individuals will offer a simple, heartfelt prayer, meditation or mantra to show their care for the earth. Others will deliver a sermon, teach a lesson, or speak out in a public forum. And some will organize community art projects, vigils, or climate marches through their towns.
You are invited to join this campaign for an Earth that is sacred. She is our mother and welcomes us. She is our home, from which we all depend on to exist and live our faith.
In the coming years, a change of vision is needed, both by governments and each and every one. To keep the Paris Agreement alive, each country needs to adopt, improve and carry out its national plan to reduce emissions of greenhouse gases by 2020. Our cautious monitoring, support in prayer and creative actions from everyday life, community witness and the impact on public stages, are a step forward and in the right direction.
The call is to unite in a day of action and prayer for the Earth, giving thanks for her many blessings, sharing our amazement at how wonderful the planet is and showing our outrage at the extent of its destruction.
You are invited to a profound conversion of respect and care for our Mother earth, our common home, sustainer of our dreams, our faith and our hope!
Ask yourself what it means to say that "The earth is sacred"? What does it mean for your personal choices and your family, your religious, social or environmental organization? What does it mean for your city, your country, for humanity?
Ask yourself the meaning of Sacred Earth and share it with others. Look beyond the obvious. Seek to retrieve the value of life in all its complexity. And communicate it, express it, manifest it, report it. This is a time to "proclaim that sorrows have an end in this world of destroyed butterflies and human rivers of indifference and exclusion"!
Join the day of prayer and action on June 12. Click HERE for more information.