Archived News Item
Ruddock responds to Institute letter about Hicks
February 1, 2007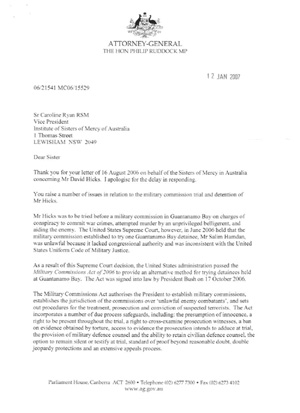 ATTORNEY-GENERAL
THE HON PHILIP RUDDOCK MP
06/21541 MC06/15529
Sr Caroline Ryan RSM
Vice President
Institute of Sisters of Mercy of Australia
1 Thomas Street
LEWISHAM NSW 2049
Dear Sister,
Thank you for your letter of 16 August 2006 on behalf of the Sisters of Mercy in Australia concerning Mr David Hicks. I apologise for the delay in responding.
You raise a number of issues in relation to the military commission trial and detention of Mr Hicks.
Mr Hicks was to be tried before a military commission in Guantanamo Bay on charges of conspiracy to commit war crimes, attempted murder by an unprivileged belligerent, and aiding the enemy. The United States Supreme Court, however, in June 2006 held that the military commission established to try one Guantanamo Bay detainee, Mr Salim Hamdan, was unlawful because it lacked congressional authority and was inconsistent with the United States Uniform Code of Military Justice.
As a result of this Supreme Court decision, the United States administration passed the Military Commissions Act of 2006 to provide an alternative method for trying detainees held at Guantanamo Bay. The Act was signed into law by President Bush on 17 October 2006.
The Military Commissions Act authorises the President to establish military commissions, establishes the jurisdiction of the commissions over "˜unlawful enemy combatants', and sets out procedures for the treatment, prosecution and conviction of suspected terrorists. The Act incorporates a number of due process safeguards, including: the presumption of innocence, a right to be present throughout the trial, a right to cross-examine prosecution witnesses, a ban on evidence obtained by torture, access to evidence the prosecution intends to adduce at trial, the provision of military defence counsel and the ability to retain civilian defence counsel, the option to remain silent or testify at trial, standard of proof beyond reasonable doubt, double jeopardy protections and an extensive appeals process.
The Australian Government has liaised with the United States administration in relation to the new legislation and its impact on Mr Hicks' case. During my recent discussions with Attorney-General Gonzales in Washington, I reiterated Australia's expectation that Mr Hicks' case be dealt with expeditiously and fairly. The United States has confirmed that additional assurances provided to Australia in the past in relation to Australian detainees will continue to apply to any new military commission trial of Mr Hicks. These include assurances that Mr Hicks will not be subject to the death penalty if he is found guilty.
At present, there is no set date for Mr Hicks' trial. Certain procedures have to be followed in order to reconstitute the military commission, including the proclamation of regulations relating to some of the military commission procedures. During my discussions with Attorney-General Gonzales, I emphasised Australia's expectation that this should happen as soon as possible.
The Government provides consular assistance to Mr Hicks, as we do for all Australians facing court or in gaol overseas. Australian officials visit Mr Hicks at Guantanamo Bay regularly and will continue to monitor Mr Hicks' welfare closely.
I have put together a document containing frequently asked questions and answers in order to provide concerned Australians with accurate, up-to-date information in relation to Mr Hicks. Please find a copy attached. This document is also available on my website at: http://www.ag.gov.au/agd/WWW/MinisterRuddockHome.nsf/Page/Media_Releases, and will be updated regularly.
Thank you for writing to the Government with your concerns.
Yours sincerely,
Philip Ruddock
EDITOR'S NOTE:
Read Sister Caroline Ryan's letter to Attorney-General Ruddock here.