Archived News Item
Roelands Village introduces new model of care for Aboriginal children and young people
July 31, 2018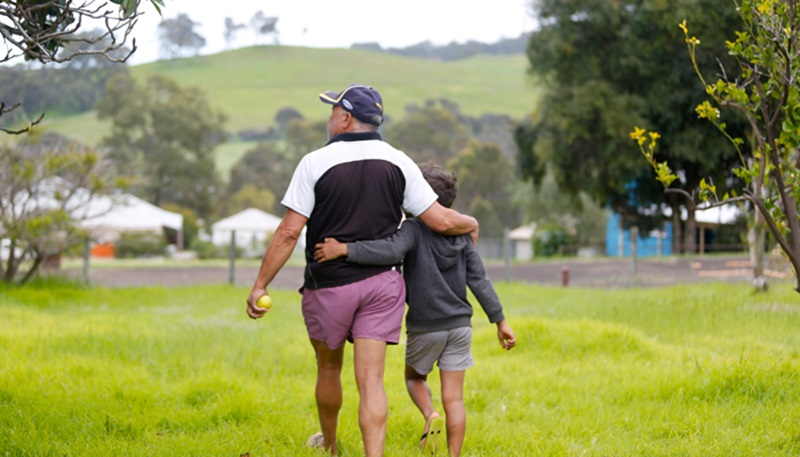 Woolkabunning Kiaka and MacKillop Family Services are partnering to provide culturally appropriate support to Aboriginal children and young people in care. Their first program, 'Other Home Care', introduces a new model to support Aboriginal children and young people in care that nurtures their connection to their culture and community.
The program is based at Roelands Village, 23 km from Bunbury in West Australia. Roelands Village is a former Stolen Generation Mission now managed by Woolkabunning Kiaka Inc, a not-for-profit Aboriginal Controlled Community Organisation. Woolkabunning Kiaka Elders are committed to healing, strengthening families, family reunification and providing opportunities for Aboriginal young people.
In 2015, MacKillop Family Services began working with Woolkabunning Kiaka to plan and implement a culturally safe out of home care model for south west WA. This model provides another home and family-like environment that nurtures their connection to country, strengthens their connection to family, and is focused on healing.
Les Wallam, Woolkabunning Kiaka CEO, has ensured that connection to culture and community is at the heart of the model.
"As early as 2010 a group of Elders, all women and respected as south-west WA community leaders, became concerned about the high numbers of Aboriginal children in out of home care. In Western Australia, 52.1% of children in care are Aboriginal and Torres Strait Islander and this includes many in the care of non-Aboriginal families where the Elders could see cultural strengthening and identity was being lost in most cases.
"Elders were also concerned about the trajectory of these children as they became adolescents and their behaviour became more challenging. They could see them struggling with identity, and their sense of belonging and place. They began working with us at Woolkabunning Kiaka and Roelands Village to create an alternative model for children and youth in out-of-home care using Roelands Village."
The Other Home Care model has already started to reconnect children to their roots and community.
"It's unbelievable how quickly children and young people respond when they are exposed to their culture, heritage and community," adds Les.
"We see them develop a sense of connection and pride in the knowledge they've learned about their past. This gives them confidence in who they are and where they have come from and it's very gratifying to see how they blossom in the care of the community and in their connection with Elders.
"The Other Home Care model helps us reach more Aboriginal children who are feeling lost and we can bring them into this nurturing environment to help them find their way back and make their own connections to our community."
MacKillop Family Services has been working with Woolkabunning Kiaka at Roelands for three years. CEO, Robyn Miller, has been closely involved in the development of the Other Home Care model.
"Mackillop is deeply honoured to be part of this initiative. Connection to community and a sense of belonging helps children to deal with trauma they may have experienced in the past and gives them strength to develop and heal. Keeping these children culturally connected to their community, and ensuring they are reunified with their families as quickly as possible, is essential to breaking the intergenerational trauma caused by the Stolen Generations and previous colonial government policies.
"Roelands Village provides programs to re-engage children and young people with education, cultural enrichment activities, pre-employment training and self-esteem building. The site includes a working farm, accommodation, an education conference centre with a commercial kitchen and an emerging, edible bush foods garden and play area for children," said Robyn.
MacKillop is putting its full support behind Roelands Village, which includes the organisation's first ever crowd funding appeal currently running to raise $40,000 to renovate one of the buildings on site. The funds will help to prepare a new home for children which will be available for respite care, make the houses accessible for children with a disability and establish facilities for holiday camps.
Woolkabunning Kiaka runs a number of programs at Roelands Village in partnership with Outback Academy Australia, and other partners such as the West Australian Indigenous Tourism Operators Council who are committed to healing alongside building education, business and employment opportunities through on-site business development and linked skills training.
For more information on MacKillop's appeal to help raise funds for Roelands Village: https://chuffed.org/project/other-home-care-at-roelands
Messages to: Angela Mallon, Media & Communications Coordinator, Mackillop Family Services
CLICK HERE TO RETURN TO JUST MERCY