Archived News Item
Rockhampton Mercy Day Project: "Sebastian"
September 27, 2007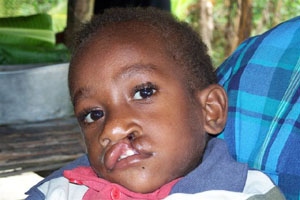 The Rocky Mercies who attended the Mercy anniversary celebrations in Wewak, Papua New Guinea earlier this year met Sebastian (pictured), a three year old boy who has a cleft lip and palate. The sisters' immediate response on meeting him was "What can we do to help him?" From this question the 'Sebastian Mercy Day Project' began.
The desire to help Sebastian was presented at Rockhampton Mater's Mission Awareness Meeting in July as it was then time to decide to whom the 'Mercy Time Outreach' would be directed this year.
Committee members unanimously said "yes" and began raising funds to bring Sebastian, with his 'watch-mama', Grandmother Maria, to Brisbane for corrective surgery in 2008.
Staff from Yeppoon and Gladstone Mater Hospitals, as well as from Bethany and Leinster Place Aged Care facilities, joined the 'Sebastian Project', which had become an in-house word!
Thanks to 'Operation Smile', a plastic surgeon who is co-founder of the Australian Chapter of 'Operation Smile', is happy to perform surgery on Sebastian at Mater Children's Private Hospital in Brisbane next year.
Sebastian's family, especially 'watch-mama' Maria and his great-aunt, Sister Theresia Nakankwien rsm are delighted with the news. Maria and Theresia's family are well known to the Rocky Mercies who spent many years at Yangoru, the home place of the Nakankwien family.
By Mercy Day, $2800 had been raised to help Sebastian! While this amount is beyond expectation we are aware that Sebastian will need to have further surgery in the future so the project will continue with the help of generous people. Any donation, no matter how small, would be appreciated!
The contact person is Desma Clarke at Mercy Admin Centre, PO Box 1576, Rockhampton, 4700 dclarke@mercycq.com
From: Sister Kerry-Ann Sullivan rsm (Local Communications Facilitator, Rockhampton)