Archived News Item
Rockhampton Mater honours the Sisters of Mercy
December 2, 2010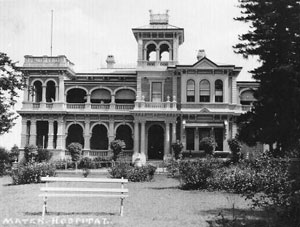 On Monday November 22, the Rockhampton Mater Hospital held a celebration to honour the 95th anniversary of the foundation of the hospital. The event was held in the original building, known as 'Kenmore' (pictured right), which was completed in 1894 for a cost of 15,000 pounds.
The mansion, now heritage-listed, was purpose built as a residence for the future Governor of the proposed state of Central Queensland. However, the Separatist Movement was overshadowed by the Federation cause and a separate state did not eventuate. Kenmore then became the home of a wealthy pastoralist family and it was in 1915 that the Sisters of Mercy negotiated the purchase of the property for the modest price of 4,500 pounds!
Having acquired the property, the Sisters of Mercy decided that its most suitable function would be as a hospital and, with the active encouragement and assistance of Bishop Joseph Shiel, the necessary alterations were made to the building.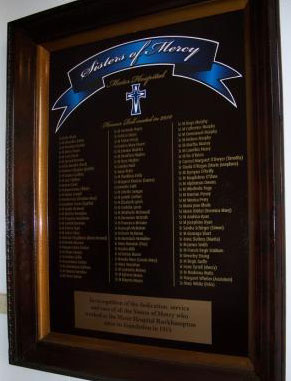 Rockhampton's Mater Misericordiae Hospital was opened and blessed by Bishop Shiel on November 14, 1915, thereby inaugurating a ministry of caring for the sick and aged of Central Queensland.
During the years since, many changes have been made to Kenmore and ongoing building expansion has taken place on site to cater for patient comfort and current practice in private health care.
As well as valuing the support of the local medical profession, the sisters are indebted to the many nursing and ancillary staff who have ably assisted them and to whom the ministry is now entrusted.
At the conclusion of the Foundation Day celebration, long-service and staff excellence awards were presented and an honour board was unveiled (pictured right). Crafted on an antique wooden picture frame that previously adorned the wall at Kenmore, the honour board is a very fitting tribute to the 90 Sisters of Mercy who have worked at the hospital since 1915.
From: Joanne Molloy RSM (Rockhampton)