Archived News Item
Rockhampton Indigenous initiatives
August 5, 2008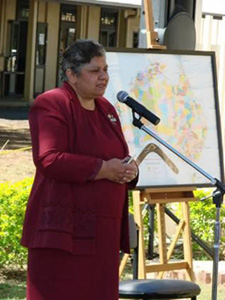 Sister Moira Truelson RSM, a member of the Institute's Specific Issues Committee for Indigenous Concerns, reports on two recent initiatives of the Aboriginal and Islander Catholic Council Ministry in Rockhampton.
In the past few years there have been two wonderful initiatives taken by the Aboriginal and Islander Catholic Council Ministry in Rockhampton which were embraced by the diocese. Bishop Brian Heenan gave his support and led the celebration of both of these.
Firstly, a booklet was developed in partnership with Mercy Health and Aged Care Central Queensland which is titled Aboriginal and Islanders Spiritual Aged Care Booklet.
This booklet was developed to assist carers in understanding the cultural needs of Indigenous people who may be living in aged care facilities. The consultation for this work was widespread and includes guidelines and explanations for the admission forms which respect tribal laws and practice as well as naming some specific cultural needs for elders. The booklet has been presented and embraced in other parts of Australia as well.
The second initiative was the unveiling of a small monument that recognises the Darumbal and Gangalu peoples as the original custodians of the land. The monument is in the grounds of Saint Joseph's Cathedral and the ceremonial unveiling was led by Bishop Brian Heenan.
The prayer that was used in the days prior to the unveiling was written by Barbara and Ernie Travaskis, who lead the Aboriginal and Islander Catholic Council in the Diocese.
Prayer for Guardians of the Land
Holy Father, we pause at this time.
Let us remember we are standing
in the midst of your creation.
Help us always to remember the presence
of the guardians of this land,
whom you placed here so long ago.
Holy Father, may we always humbly travel
across this sacred land.
Remembering to give thanks for all of creation –
the land and water
mountains and lagoons,
trees, birds and animals
who have been with the guardians all this time.
Holy Father,
we ask forgiveness for the pain and hurt
from our mindless actions
to your special creations and the guardians.
Holy Father, may each one of us daily give thanks
for the many blessings that you freely share with us.
May your guardians always walk peacefully.
We ask this prayer in Jesus name. Amen

From: Specific Issues Committee, Indigenous Concerns (Anne McGuire, Sisters Rose Glennen and Moira Truelson). The Committee warmly invites your response to the article or the issue.
Email: indigenous.concerns@mercy.org.au
Contact: Carmel Heagerty RSM, Institute Justice Co-ordinator
Email: Institute.Justice@mercy.org.au