Archived News Item
Rockhampton golden jubilee celebrations
October 14, 2008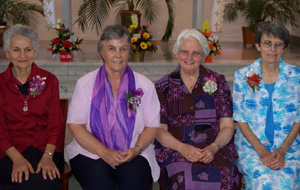 On Friday, September 26, Rockhampton Sisters of Mercy gathered in the Chapel of Our Lady of Good Counsel, The Range, to celebrate the golden jubilee of religious profession of Sisters Stancia Cawte, Patricia Wood, Mary Regina Camilleri, and Patricia Hayes. The four sisters, daughters of the Mackay Region, were joined by family and friends for the joyous occasion.
Father John Grace, Vicar General of the diocese, concelebrated the Jubilee Mass with Fathers Frank Gilbert, Grove Johnson, Kevin Castles, and Terry Stallard.
Father Grace read Bishop Brian Heenan's message of heartfelt congratulations and gratitude for the "wonderful contribution the jubiliarians have made to the Sisters of Mercy and to so many throughout the Diocese of Rockhampton"; and shared his personal observation: "there is a clear sense of the resurrection truth abiding here today, of which we can proclaim – 'these are the days which the Lord has made, let us be glad and rejoice.'"
"We all rejoice in this golden jubilee which honours four religious women," Father Grace said, "and I sense serenity, satisfaction, contentment and gratitude radiating from each of them. Like St Paul, they can say that in their Religious Life, they have discovered 'a joyful trust in God' (Romans 5:11)."
Father John highlighted the dignity of the consecrated religious life as a leaven within the community of pilgrim believers through the observances of a public vowed life. He reminded us that "the vows we recall today, taken fifty years ago, were to a life of love, expressed in a mode of service which contributes to the building up of the Kingdom of God".
Father likened a vow to a trellis which supports a plant which doesn't totally support itself. It is a framework on which a delicate life grows.
Speaking to the jubilarians, Father John reminded them of the charism of our foundress, Catherine McAuley, from which we gain further guidelines to frame life, so as to grow, vowed to Christ, through a balanced, ordered and focussed life.
Father said, quoting from an article, "Rules of Life", by Bonnie Thurston: "'While the journey may not always be direct, carefree or easy, the scenery is breath-taking, the fellow travellers are wonderful and the destination is glorious' – Stancia, Pat, Regina and Pat, you are such witnesses. You have embraced great changes in the style of religious life and in the progressive understanding of the respective vows. This challenge has surfaced your deep integrity and inner commitment of which we are so proud."
"Like St Paul, today, You return Glory to God whose power is working in you, and Who has done infinitely more than you ever asked for or imagined. Like Mary, your thanksgiving is effusive. God's mercies are far from over, still stretching from age to age. Like St Paul and Mary, may Christ live on in your hearts."
"Remember that all of us here have admired and loved you, been inspired by your example, and encouraged in our commitments."
Congratulations and God's Blessings!
From: Sister Kerry-Ann Sullivan RSM (Local Communications Facilitator, Rockhampton)