Archived News Item
Rockhampton celebrates 70, 60 and 50-year jubilees
March 11, 2010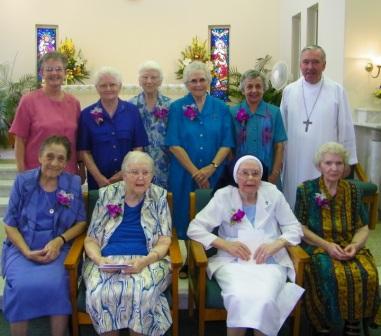 Rockhampton Sisters of Mercy celebrated the jubilees of nine of their sisters on January 23. Present with the sisters were many family members who travelled from Ireland, interstate and other Queensland centres. "Congratulations and sincere wishes to these nine jubilarians," writes Joanne Molloy RSM, "who, over many years, have generously enriched the life of the congregation and the wider community."
It was with deep gratitude and great joy that the Rockhampton Sisters of Mercy recently celebrated the jubilees of nine sisters. These were Sisters Joseph Mary Mulcahy (70 years), M. Andrina Ryan, Patrice Kennedy, Gabriel Kennedy, Anthony Mary Casey, Angela Doheny, Paulinus Scotney and Michael McRae (60 years) and M. Victorina Sant (50 years). Regrettably, Sister M. Michael McRae was sick and unable to attend the celebrations. Present with the sisters were many family members who travelled from Ireland, interstate and other Queensland centres.
Sister Joseph Mary was born in County Cork, Ireland; Sisters M. Patrice and Gabriel come from Galway, Ireland; Sisters M Andrina, Anthony Mary and Angela are local Rockhampton women; Sisters M. Paulinus and Michael are from Bundaberg while Sister M. Victorina grew up in Habana, near Mackay.
Bishop Brian Heenan, assisted by several local priests, presided at the Eucharist in Our Lady of Good Counsel Chapel at The Range. The celebration was enhanced by the combined musical talent of Bernadette Mitchell, Erica Marshall, Fran Griffin and Gail Steindl – all former Range College pupils who had been taught by Sister M. Angela.
In his homily, Bishop Brian said, "When Catherine McAuley founded the Sisters of Mercy she could never have envisaged what an impact the sisters would have on society through their vowed life. When the Mercies came to Rockhampton, who could have foreseen the scope of ministry being celebrated here today, a combined 540 years of ministry in education, nursing, social welfare with chaplaincy and hearing impaired, catering, the arts, especially music and that indescribable influence for good on the lives of children, families, parishes and the whole diocese?
"Enshrined in the Scriptures you have chosen, God is saying to you, through Isaiah, the prophet, 'I am your God. I have chosen you, I give you strength, I bring you help, I have taken your hand so don't be anxious, do not be afraid'. As you look back on your years, I am sure there were times when you wondered where God was, or where was the help or the outstretched hand? Yet, I am sure you can look back in hindsight and see how your spirit and God's spirit combined to bring you through".
Bishop Heenan continued: "The Gospel you chose highlights love: God's love for you, your love for God and your love for your families, your sisters and the people to whom you brought ministry. Again, Jesus used an intimate term when he called you 'friends'. Then Jesus used those arresting words 'You did not choose me, no, I chose you and I commissioned you to go out and bear fruit, fruit that will last'.
"We shouldn't miss the point about 'fruit that will last' as there are thousands of people who have been blessed in knowing each one of you; those people, young and old, who loved you into life, who affirmed you and made you surer that God's call was for you. It is good to take time to highlight the treasured people you have known and also to believe that you will never know how much you meant to so many people".
At the luncheon which followed the Eucharist, tributes were paid to the jubilarians on behalf of those present. Sister Marie Riddel honoured Sister Joseph Mary, Sister Moira Truelson proposed the toast to the seven sisters who were celebrating 60 years of profession and Sister Beverley Strong paid tribute to Sister M. Victorina. Congratulations and sincere wishes to these nine jubilarians who, over many years, have generously enriched the life of the congregation and the wider community.
From: Joanne Molloy RSM (Rockhampton)