Archived News Item
RIP Sister Kath Pierce
February 21, 2008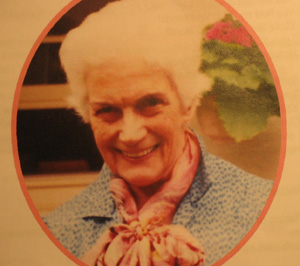 Sister Kathleen Pierce RSM (Gertrude) of the Adelaide Congregation, died peacefully at Tappeiner Court Nursing Home in Kensington, Adelaide on January 31, 2008. Aged 94 years, she would have celebrated 70 years of profession on February 5. Sister Bernadette Marks reports: "She was a gifted woman who taught in many of our schools, was the sister in charge of the new foundation made at Elizabeth in 1958, and gave religious instruction on weekends in Victor Harbour for over ten years. After retirement from teaching, she was involved in retreats and weekly meditation groups." Mercy M@tters is pleased to publish the eulogy delivered by Sister Ruth Mullins.
Sister Kath Pierce (Gertrude) – Eulogy delivered by Sister Ruth Mullins
Most of us here today have known Kath for a very long time, we each have our own usually colourful stories of Kath, and probably at some time were the subject of her efforts to shape or improve our lives in concert with the many phases of Kath's own life.
When I was asked to give this eulogy for Kath, she was on her last journey. As I sat with her over those last nights, praying and remembering, I talked to her about the many facets that shine through in her life – and the threads of the pain that bind together the human expression of God's love called Kathleen, Sister Gertrude and simply Kath.
I laughed as I thought, like the song. "How do you solve a problem like Kath? It is impossible to sum up the life of someone who lived life as fully and as faithfully as did Kath.
Kath was born in 1913 into the adoring, loving arms of Grace and Terry Pierce, a Catholic couple, strong in the support of the Church and with deep respect for the clergy, many of whom often visited their home.
An intelligent child, and a good student, Kath was always a free spirit. The house next door to the Pierce's house belonged to the Davies family, and the father of Dr Glynn1 was Kath's confidant, with whom she had meaningful childhood conversations about religion (the Davies were non-Catholics and she possibly thought they needed converting, and later, she was to accompany many people on their journey to Catholicism). They talked about families, sport and about the big childhood questions of life – all these conversations taking place through the palings in the side fence between the houses.
At seven, her parents found that Kathleen's frequent coughs were, in fact, asthma. There was no coddling for Kath and she determined that she would overcome this disability with exercise, taking up tennis at school and joining the tennis parties of adults who gathered at her home.
At about 12, she had decided that she wanted to be a teacher, and was flattered that one of the several teachers in the tennis groups played a few sets with her every couple of weeks or so. However, at nearly 14, Kath soundly beat this lady and Auntie Celia2 never played tennis again.
There were many times in the early days and red dust of Elizabeth3 when Kath's wracking, gut wrenching coughs echoed through our tiny house almost rattling the windows – and Veronica MacArthur, Carmel Christie and I whispered about getting a doctor – until the night when Kath threw open her door and berated us loudly, and soundly, for breaking the nightly, "great silence".
A postscript to the many asthma stories is the fact, typical of Kath, that though she could not have fresh flowers, especially roses, in her room. Kath loved roses, especially those grown by her dad, and characteristically, after studying all she could about rose growing, she planted rose bushes every where she lived.
One of Kath's strengths particularly when she was principal of the school or as superior of the community, was her ability to attract helpers for "working bees" to raise funds or do some necessary work in the school or convent.
At Elizabeth, for example, there was the weekend of planting the inevitable carefully chosen rose bushes, the orange and grapefruit trees (with the jars of marmalade we would make already in Kath's mind), and seeding very large expanses of lawn, "with every hand on deck".
On Monday morning, hot, north winds blew choking red dust clouds across the area and, as all were setting off to school, Kath blew into the room of one sister who had developed on Sunday, what turned out to be a bad case of the flu.
Kath's exact words were, "It's lucky you have to stay home in bed", she said. "You have to get up at 10:00am, 12:00 noon and 2:00pm and turn on all the sprinklers for half an hour each time- no more than half an hour, mind!" and blew out again!
Kath's Ikebana phase happened in the early days at Elizabeth, when she thought that we could be improved with some Japanese floral art classes.
A born teacher Kath delighted in the achievements of her students and expected everyone to be her intelligent equal. Having enjoyed and graduated from teachers college before entering the convent, she continued reading, searching for ways of more effective educational practice and she delighted in developing new curricula.
Innovative in her teaching and not suffering fools very gladly, she drew, or tried to draw, those working with her at the time into sharing the new discoveries in her life. Her version of what we would call experiential learning, emotional intelligence and currently, contextual education, helped many of her students make choices to extend their capabilities, and we know that Kath has many success stories to her credit.
She was enormously proud of having prepared Pat Pak Poy RSM4 and Denise Coen RSM4 for First Communion – of the summer schools she conducted over several years in the South East, where she prepared Pat Fox,5 Helen Densley,5 and Tony Densley5 for Confirmation and she proudly claimed that, as Principal of Albert Park School,6 she taught Denis Edwards to write English.6 Kath read and reflected on Denis's and Pat Fox's writings and, in prayer, gave thanks for their vocations and success – something she did for all who came into her sphere of influence.
Kath's approval was loud and generous when she deemed (not often) that it was deserved, and her ideas were often loudly contested through Francis Coady, who, from their novitiate days together, became the sister Kath never had.
Each was their own person and one tiny cameo of their enduring friendship, out of the many ways their lives were shared, was their visit to San Francesco while on their pilgrimage. I was in SF at the time and Kath told me that her main purpose while there, was to buy some medals – only available at one mission church on the outskirts of the huge city.
As the taxi drove further and further away from the city, Fran harangued Kath loudly and long about the futility of the journey, while Kath sat serenely in the back, equally loudly giving the driver directions he didn't need.
When we arrived, Kath turned to Fran and said calmly, "I know what you think – so I turned you off."7

Kath reached out to lay people in many ways. At least three groups of women tell the story today, that when she had asked her mother why she had no brothers or sisters, her mother replied that she had wanted other children, but that God did not choose to send her any.
At some level Kath picked up her mother's pain and one of the real achievements of Kath's life was the response she gave out of concern for women. She had great compassion for women whose lives were difficult, especially for those struggling as widows, or migrants or with sickness or impossibly large families, and sought new ways of support, often seeking advice and support from medical practitioners and theologians.
Kath headed the Motor Mission at Victor Harbour/Goolwa. We, and those who followed, left our classrooms and students at 2:00pm each Friday afternoon, returning to Adelaide at 8:00am on Monday morning ready for the school week, having risen at 4:30am to clean the Victor house and do the washing before we left.
Kath was inexhaustible in her efforts to seek out and support the people of the area. Soon we had gathered a group at Mount Compass, another at Yankalilla, and another at Tooperang, as well as the work at Victor and Goolwa. Also included were regular home visits, hospital visits, adult education for parents and for those wishing to find out more about Catholicism, plus benediction on Sunday nights!
There was not much free time, but Kath found time for another creative phase: table tops decorated with marble squares and glass circles, producing a number of very attractive pieces appreciated by the recipients.
The changes that came with Vatican II was more than a phase for Kath. She studied the documents. She set about her own style of helping lay people understand the changes in the church and an approach to God that was positive and encouraging.
From this stemmed our gathering people for "home retreats". This in turn lead to her discovering retreats with Ted O'Connor SJ at Seven Hill, and later, to the work of John Main, where Kath and Fran literally brought his spirituality to life for both religious and lay people in new ways.
When she was at Albert Park, a young priest, newly back from Rome, arrived as the curate. Kath immediately took him under her wing, welcoming him in the school and sending him off to visit families. Hearing her tell the story, one wasn't sure whether Kath thought that the families needed a visit, or that she was forming the young priest in pastoral practice! However, that may be when Fr Len Faulkner was consecrated Bishop, and later Archbishop she took direct credit, satisfied that her coaching had paid off!
Always, whatever she learned, Kath wanted to share the experience with others, and, if you had discerning eyes, you could see the links to her deep, and not always comfortable, spirituality. There was the shell and glass phase, the pottery phase, the pencil, then the pastel and finally the painting phase.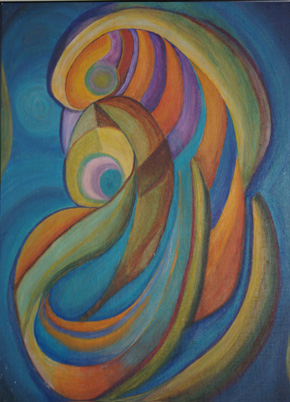 When I came back from overseas in 2000, this painting (pictured right) is one of the first things Kath proudly showed to me. She asked me what I thought of it, having critiqued the art periods in my life. The second thing I noticed about it is not only the flow of colour but also the layers of colour. The muted tones describing layers of meaning and the depth brought out through those layers, hinting at further depth unseen.
The third thing I noted is the movement and vibrant tones, that give the hint of life and fire and hope and the possibility of rich fullness. The first thing I had noted was what I called the 'not quite Madonna sense' portrayed in the flowing shapes.
"No!" said Kath firmly, "it is not a Madonna – it is not meant to be a Madonna. I traced the lines but the colours came to me as I did the requested painting. It is an exercise in tones."
This was painted for an art exam and Kath's teacher asked Kath if she could hang it as the best example of her students work for that year. This painting actually hung in the South Australian Art Gallery for a short time.
You were definite and right Kath, about the painting, for this painting is about the movements of love. There is an encouraging shadow of strength and love at the top, bringing hope to life in a flowing complexity of tones, with faith in its harmony and depth, and of fire giving life and warmth. This painting is about the inner Kath. It is about life with compassion for all it embraces, and ultimately peace.
One last lesson Kath teaches: only a loving God can know Kath as she really is.
One last lesson: only a loving God can know each of us as we really are.
ENDNOTES:
1 Dr Glynn, an eye specialist, cared for Kath's eyes for many years.
2. 'Auntie Celia' was a stylish lady with a very beautiful voice – a bit pretentious – known by the Mercies.
3 Kath was superior of the community and first principal of the school at Elizabeth – a newly built town built on former wheat fields to accommodate migrants, mostly form the UK who came to work in a huge Holden and other factories.
4. At S.A.C.
5 . Pat Fox RSM, Helen Densley RSM and Fr Tony Densley – at Bordertown.
6. Fr Denis Edwards – theologian and author.
7. The frustration of increasing deafness was an affliction for Kath.